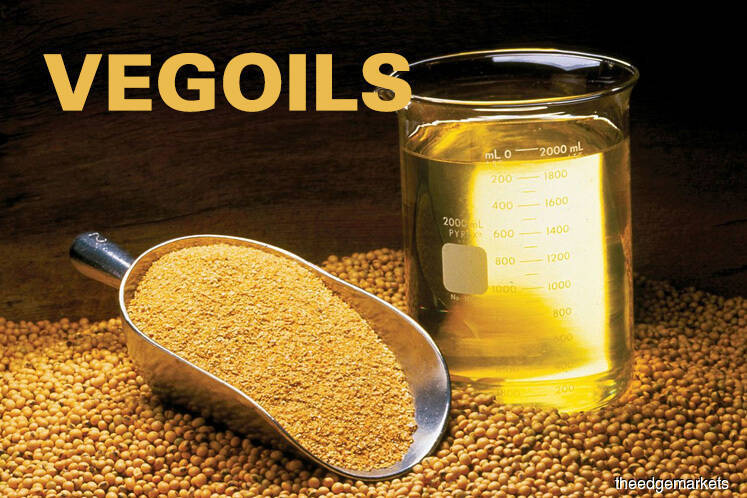 KUALA LUMPUR (May 7): Malaysian palm oil futures rose over 1% at the midday break on Tuesday, recovering from an over five-month low hit in the previous trading session tracking a recovery in US soyoil prices and stronger related edible oils on China's Dalian Commodity Exchange.     
The benchmark palm oil contract for July delivery on the Bursa Malaysia Derivatives Exchange was last up 1.6% at RM2,016 (US$486.25) a tonne around noon, in line for a first gain in 11 sessions.
Palm previously fell for seven consecutive days and lost 5% of its value last week.
Palm oil seems to have found a support range of RM1,940-1,967 per tonne, it may bounce towards RM2,034, said Wang Tao, a Reuters market analyst for commodities and energy technicals.
"Palm is seeing some correction today, and soyoil has also recovered some heavy losses," a Kuala Lumpur-based futures trader said.
"But the US-China trade war is bearish for the soy complex as a whole," he added.
Another trader also said that gains in palm olein and soyoil prices on China's Dalian Commodity Exchange provided some support to palm.     
Palm oil futures fell to their lowest in more than five months on Monday as US President Donald Trump's threats to increase tariffs on Chinese imports risked prospects of a trade deal, sending global commodities and stock markets lower.
In other related oils, the Chicago July soybean oil contract fell 0.8% on Monday, but was last slightly up 0.04% on Tuesday.
Meanwhile, the May soyoil contract on the Dalian Commodity Exchange rose 0.4%, and the Dalian May palm oil contract was trading flat.
Palm oil prices are impacted by movements in soyoil, as the edible oils compete for global market share.
Palm, soy and crude oil prices at 0451 GMT
| | | | | | | |
| --- | --- | --- | --- | --- | --- | --- |
| Contract          | Month    | Last  | Change     | Low    | High  | Volume |
| MY PALM OIL       | MAY9     | 1961  | +84.00    | 1956    | 1961      | 27 |
| MY PALM OIL       | JUN9     | 1987  | +27.00    | 1974    | 1996     | 448 |
| MY PALM OIL       | JUL9     | 2016  | +32.00    | 2000    | 2022    | 6180 |
| CHINA PALM OLEIN  | MAY9     | 4196   | +0.00    | 4102    | 4196    | 3388 |
| CHINA SOYOIL      | MAY9     | 5232  | +20.00    | 5200    | 5284     | 260 |
| CBOT SOY OIL      | JUL9    | 27.13   | +0.00   | 26.96   | 27.15    | 4982 |
| INDIA PALM OIL    | MAY9   | 517.00   | +3.50  | 516.50     | 518      | 81 |
| INDIA SOYOIL      | MAY9    | 733.5   | +2.25  | 732.55   | 734.5     | 950 |
| NYMEX CRUDE       | JUN9    | 62.37   | +0.12   | 61.81   | 62.41   | 41857 |
Palm oil prices in Malaysian ringgit per tonne
CBOT soy oil in US cents per pound
Dalian soy oil and RBD palm olein in Chinese yuan per tonne
India soy oil in Indian rupee per 10 kg
Crude in US dollars per barrel
(US$1 = RM4.1460)
(US$1 = 69.3910 Indian rupees)
(US$1 = 6.7795 Chinese yuan)