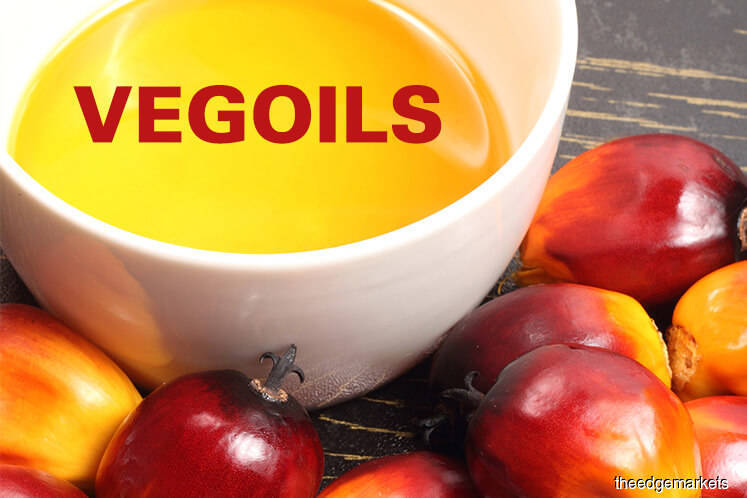 KUALA LUMPUR (Feb 18): Malaysian palm oil futures edged higher in early trade on Monday, in line for a second session of gains in three days, bolstered by stronger related edible oils and on expectations of weaker output.     
The benchmark palm oil contract for May delivery on the Bursa Malaysia Derivatives Exchange rose 0.4% to RM2,281 (US$559.62) a tonne at the midday break.
Trading volumes stood at 9,192 lots of 25 tonnes each at noon.
"Palm's gain is due to supportive external markets, while production figures are also negative," said a Kuala Lumpur-based trader, referring to output data from a millers association showing declining output.
Palm oil production usually declines during the first quarter of the year in line with seasonal trend. Monthly output in February is also expected to fall from the previous month on fewer working days.
Output in Malaysia, the world's second-largest producer and exporter, fell 3.9% to 1.74 million tonnes last month, data from the Malaysian Palm Oil Board showed.
Malaysian palm oil prices are set to hold steady in 2019 at an average of RM2,303 a tonne, according to estimates by the Malaysian Palm Oil Council (MPOC) on Monday, while global output of the tropical oil is expected to rise by 3 million tonnes.
Malaysian output would rise to 20.2 million tonnes in 2019, while Indonesian production is pegged at 42.8 million tonnes, said the MPOC.
In other related oils, the May soyoil contract on the Dalian Commodity Exchange rose 0.5%, while the Dalian May palm oil contract added up 0.3%.
The US Chicago Board of Trade is closed on Monday for a national holiday.
Palm oil prices are affected by movements in soyoil, as they compete for a share in the global vegetable oil market.
Palm oil is biased to break a resistance at RM2,285 per tonne and rise towards the next resistance at RM2,316, said Wang Tao, a Reuters market analyst for commodities and energy technicals.
Palm, soy and crude oil prices at 0503 GMT
| | | | | | | |
| --- | --- | --- | --- | --- | --- | --- |
| Contract          | Month    | Last  | Change     | Low   | High   | Volume |
| MY PALM OIL       | MAR9     | 2202   | +0.00    | 2199   | 2212      | 324 |
| MY PALM OIL       | APR9     | 2261   | +7.00    | 2255   | 2264     | 3327 |
| MY PALM OIL       | MAY9     | 2281   | +8.00    | 2274   | 2283     | 4469 |
| CHINA PALM OLEIN  | MAY9     | 4778  | +12.00    | 4762   | 4818   | 247824 |
| CHINA SOYOIL      | MAY9     | 5720  | +28.00    | 5678   | 5730   | 185742 |
| CBOT SOY OIL      | MAR9    | 29.95   | +0.00   | 0 | 0 | 0 |
| INDIA PALM OIL    | FEB9   | 562.00   | +2.30  | 561.50  | 563.6       | 73 |
| INDIA SOYOIL      | FEB9      | 779   | +3.00   | 777.5    | 784      | 410 |
| NYMEX CRUDE       | MAR9    | 55.84   | +0.25   | 55.72  | 56.13     | 9199 |
Palm oil prices in Malaysian ringgit per tonne
CBOT soy oil in US cents per pound
Dalian soy oil and RBD palm olein in Chinese yuan per tonne
India soy oil in Indian rupee per 10 kg
Crude in US dollars per barrel
(US$1 = RM4.0760)
(US$1 = 71.4150 Indian rupees)
(US$1 = 6.7545 Chinese yuan)