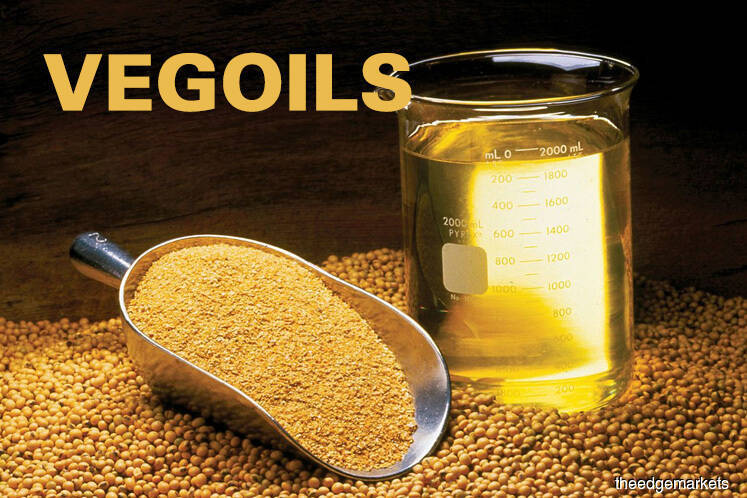 KUALA LUMPUR (Jan 18): Malaysian palm oil futures jumped to a three-month high in early trade on Friday, heading for a second day of gains, buoyed by a weaker ringgit and tracking overnight rise in the US soyoil on the Chicago Board of Trade.    
The benchmark palm oil contract for April delivery on the Bursa Malaysia Derivatives Exchange rose 0.6% to RM2,212 (US$537.68) a tonne at noon. It was earlier as high as RM2,223, its strongest levels since Oct 23.
Palm is up 1.9% for the week so far.
Trading volumes stood at 12,573 lots of 25 tonnes each at the midday break.
"Palm is up tracking CBOT's overnight gains and strong Dalian, coupled with a weak ringgit," said a Kuala Lumpur-based futures trader, referring to related edible oils on China's Dalian Commodity Exchange.
"But the current weakness in CBOT has capped gains," she added.
A weaker ringgit, palm's currency of trade, usually makes the edible oil cheaper for holders of foreign currencies. The ringgit fell against the dollar on Friday afternoon, in line for a fifth day of losses, and was last down 0.1% at 4.1140.
In other related oils, the Chicago March soybean oil contract had jumped 1.9% on Thursday, in line with gains in Chicago soybean futures, which rose for a second session on Thursday as adverse weather in South America supported prices.
Meanwhile, the May soybean oil contract on the Dalian Commodity Exchange was up 1.1% and the Dalian January palm oil contract declined 0.5%.
Palm oil prices are impacted by movements in soyoil rates, as they compete for a share in the global vegetable oil market.
Palm oil is biased to break a resistance at RM2,198 per tonne, and rise into a range of RM2,227-2,245, said Wang Tao, a Reuters market analyst for commodities and energy technicals.
Palm, soy and crude oil prices at 0451 GMT:
| | | | | | | |
| --- | --- | --- | --- | --- | --- | --- |
| Contract          | Month    | Last  | Change     | Low    | High  | Volume |
| MY PALM OIL       | FEB9     | 2140  | +19.00    | 2134    | 2144     | 722 |
| MY PALM OIL       | MAR9     | 2185  | +18.00    | 2179    | 2191    | 1893 |
| MY PALM OIL       | APR9     | 2212  | +14.00    | 2208    | 2223    | 4803 |
| CHINA PALM OLEIN  | JAN9     | 4200  | -22.00    | 3992    | 4200     | 556 |
| CHINA SOYOIL      | JAN9     | 5170  | +12.00    | 5168    | 5170     | 120 |
| CBOT SOY OIL      | JAN9    | 28.69   | -0.08   | 28.67   | 28.77    | 3563 |
| INDIA PALM OIL    | JAN9   | 552.10   | +4.30  | 550.00   | 553.8     | 314 |
| INDIA SOYOIL      | JAN9    | 763.5   | +0.80   | 762.5   | 765.5    | 1310 |
| NYMEX CRUDE       | FEB9    | 52.64   | +0.57   | 52.09   | 52.77   | 14479 |
Palm oil prices in Malaysian ringgit per tonne
CBOT soy oil in US cents per pound
Dalian soy oil and RBD palm olein in Chinese yuan per tonne
India soy oil in Indian rupee per 10 kg
Crude in US dollars per barrel
(US$1 = RM4.1140)
(US$1 = 71.1140 Indian rupees)
(US$1 = 6.7767 Chinese yuan)