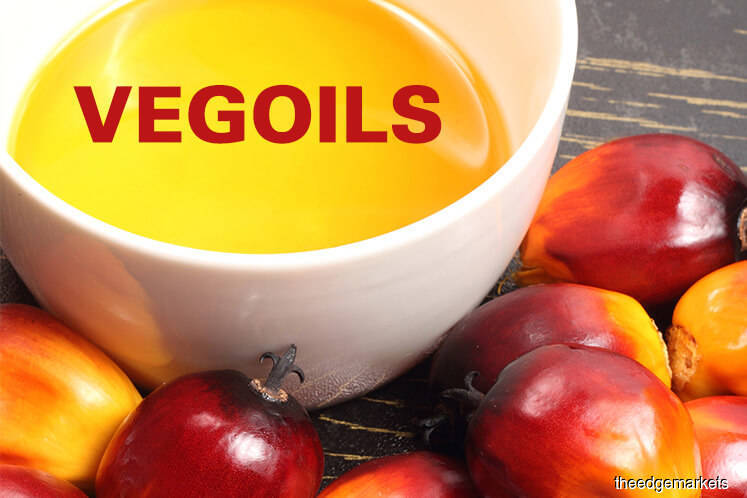 KUALA LUMPUR (March 4): Malaysian palm oil futures gained on Monday to their highest level in a week, boosted by strength in other edible oils and expectations of a trade deal between China and the United States.
The United States and China appear close to a deal that would roll back US tariffs on at least US$200 billion worth of Chinese goods, as Beijing makes pledges on structural economic changes and eliminates retaliatory tariffs on US goods, a source briefed on negotiations told Reuters on Sunday.
The benchmark palm oil contract for May delivery on the Bursa Malaysia Derivatives Exchange rose 0.5% to RM2,200 (US$540.41) a tonne at midday break.
"The gain in palm is due to positive talks to resolve the US-China trade war," a Kuala Lumpur-based palm oil trader said.
Another trader said the strength in rival oilseeds could further boost palm oil prices.
Palm prices had declined 3% last week due to weaker exports and high inventories.
The prices are expected to recover in the six to 10 months, leading palm industry analyst Thomas Mielke said on Monday.
Market players, however, told Reuters that world palm oil demand may suffer its first contraction in two decades during the 2019/20 crop year due to rising domestic oilseed supplies in top buyer India and slowing demand in Europe and China.
Traders are awaiting the start of an industry conference this week to gauge outlook for the palm oil market.
In other related oils, the Chicago March soybean oil contract was last up 0.2% on Monday.
The May soyoil contract on the Dalian Commodity Exchange gained 1.4% and the Dalian May palm oil contract rose 2.1%.
Palm oil prices are affected by movements in soyoil, as they compete for a share in the global vegetable oil market.   
Palm, soy and crude oil prices at 0504 GMT
| | | | | | | |
| --- | --- | --- | --- | --- | --- | --- |
| Contract        | Month    | Last   | Change     | Low    | High  | Volume |
| MY PALM OIL     | MAR9        | 0    | +0.00  | 0 | 0 | 0 |
| MY PALM OIL     | APR9     | 2145   | +11.00    | 2141    | 2162     | 615 |
| MY PALM OIL     | MAY9     | 2200   | +11.00    | 2193    | 2217    | 8196 |
| CHINA PALM OLEIN      | MAY9     | 4686   | +98.00    | 4588    | 4714  | 539796 |
| CHINA SOYOIL    | MAY9     | 5818   | +80.00    | 5712    | 5872  | 528020 |
| CBOT SOY OIL    | MAR9    | 30.01    | +0.06   | 29.99   | 30.01     | 428 |
| INDIA PALM OIL  | MAR9     | 0.00    | +0.00    | 0.00  | 0 | 0 |
| INDIA SOYOIL    | MAR9    | 762.5    | +6.10  | 756.35     | 763    | 9730 |
| NYMEX CRUDE     | APR9    | 56.08    | +0.28   | 55.83   | 56.30   | 31256 |
Palm oil prices in Malaysian ringgit per tonne
CBOT soy oil in US cents per pound
Dalian soy oil and RBD palm olein in Chinese yuan per tonne
India soy oil in Indian rupee per 10 kg
Crude in US dollars per barrel
(US$1 = RM4.0710)
(US$1 = 6.7044 Chinese yuan)
(US$1 = 70.8900 Indian rupees)