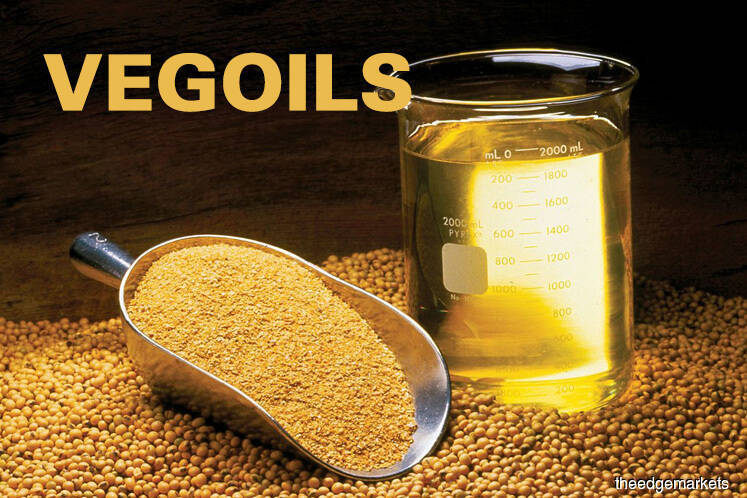 KUALA LUMPUR (April 5): Malaysian palm oil futures surged to their highest in six weeks on Friday evening, charting a fifth straight session of gains, on expectations of dwindling stockpiles and improved exports.
The benchmark palm oil contract for June delivery on the Bursa Malaysia Derivatives Exchange was up 0.9% at 2,224 ringgit (US$544.16) a tonne at the close of trade.
It earlier rose 1.4% to 2,235 ringgit, its highest since Feb 25.
Palm is up this week by 5.6%, a second weekly gain in three. 
A futures trader in Kuala Lumpur said the market jumped in the evening, on expectations of higher exports in April. 
Palm oil futures had risen this week on expectations that March data from industry regulator, the Malaysian Palm Oil Board, to show a decline in inventory levels. 
Malaysia's palm oil stockpiles are likely to have dropped during March to its lowest level in five months, according to a Reuters survey, as a hefty jump in exports outpaced production gains.
March inventories are expected to have fallen 6.4% from February to 2.85 million tonnes, the lowest since October 2018, while exports are pegged to come in at 1.63 million tonnes, a 23.4% rise from the previous month.
The Malaysian Palm Oil Board is scheduled to release March data on April 10.
Malaysian palm oil stockpiles rose to their highest in nearly two decades in December, and last increased unexpectedly in February by 1.3% to 3.05 million tonnes.
In other related oils, the Chicago May soybean oil contract was up 0.2%. 
Palm oil prices are affected by movements in soyoil, as they compete for a share in the global vegetable oil market. 
        
 Palm, soy and crude oil prices at 1054 GMT
 Contract           Month    Last  Change     Low   High  Volume
 MY PALM OIL       APR9      2160  +29.00    2120   2160     118
 MY PALM OIL       MAY9      2200  +29.00    2170   2212    1788
 MY PALM OIL       JUN9      2221  +20.00    2199   2235   19238
 CHINA PALM OLEIN  MAY9         0   +0.00       0      0       0
 CHINA SOYOIL      MAY9         0   +0.00       0      0       0
 CBOT SOY OIL      MAY9     29.25   +0.05   29.06  29.29    4962
 INDIA PALM OIL    APR9    546.80   +5.90  540.20  549.3    1355
 INDIA SOYOIL      APR9    743.45   +6.60  735.25  744.3   11120
 NYMEX CRUDE       MAY9     61.99   -0.11   61.82  62.25  111178
 Palm oil prices in Malaysian ringgit per tonne
 CBOT soy oil in U.S. cents per pound
 Dalian soy oil and RBD palm olein in Chinese yuan per tonne
 India soy oil in Indian rupee per 10 kg
 Crude in U.S. dollars per barrel
 
(US$1 = 4.0870 ringgit)
(US$1 = 6.7182 Chinese yuan)
(US$1 = 69.2800 Indian rupees)