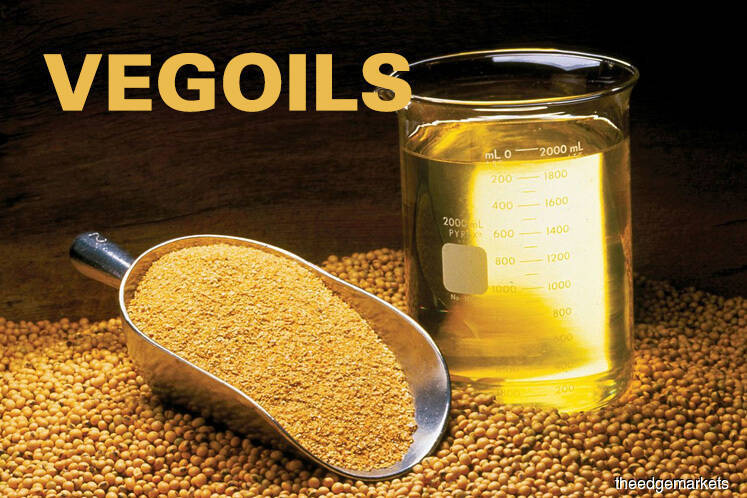 KUALA LUMPUR (April 16): Malaysian palm oil futures hit a one-week high during trade on Tuesday, reversing losses made earlier in the day and supported by a weaker ringgit  and expectations of weaker than forecast production. 
The benchmark palm oil contract for July delivery on the Bursa Malaysia Derivatives Exchange closed up 0.6% at 2,173 ringgit (US$526) a tonne, its strongest daily gains in two weeks.
It had earlier fallen to 2,139 ringgit, its weakest level since April 2, before rebounding to a one-week high of 2,184 ringgit.   
"The market strengthened on the ringgit, and April production may be unchanged when it is normally up on-month," said a Kuala Lumpur-based trader, referring to the weaker ringgit which is palm's traded currency. 
The ringgit fell to its lowest levels in nearly three months against the dollar on Tuesday afternoon, making the edible oil cheaper for holders of foreign currencies.
The ringgit was down 0.6% at 4.1310 on Tuesday evening.  
Lower than forecast production could also ease stockpiles and support palm oil prices. Malaysia's palm oil production in March rose to 1.67 million tonnes, up 8.3% from February and registering its first gain after four months of decline.
In other related oils, the Chicago May soybean oil contract  was down 0.3% on Tuesday, and the May soyoil contract on the Dalian Commodity Exchange lost 0.9%. 
The Dalian May palm oil contract also declined 0.9%.
Palm oil prices are affected by movements in soyoil, as they compete for a share in the global vegetable oil market. 
        
 Palm, soy and crude oil prices at 1057 GMT
| | | | | | | |
| --- | --- | --- | --- | --- | --- | --- |
| Contract | Month | Last | Change | Low | High | Volume |
| MY PALM OIL | MAY9 | 2105 | +11.00 | 2066 | 2108 | 651 |
| MY PALM OIL | JUN9 | 2156 | +13.00 | 2121 | 2165 | 11354 |
| MY PALM OIL | JUL9 | 2173 | +12.00 | 2139 | 2184 | 16633 |
| CHINA PALM OLEIN | MAY9 | 4424 | -40.00 | 4406 | 4452 | 51294 |
| CHINA SOYOIL | MAY9 | 5388 | -50.00 | 5372 | 5422 | 108504 |
| CBOT SOY OIL | MAY9 | 28.73 | -0.08 | 28.7 | 28.79 | 3269 |
| INDIA PALM OIL | APR9 | 537.80 | +4.00 | 531.60 | 538.7 | 760 |
| INDIA SOYOIL | APR9 | 740 | +1.25 | 738.2 | 740.5 | 2870 |
| NYMEX CRUDE | MAY9 | 63.49 | +0.09 | 63.12 | 63.60 | 101802 |
 Palm oil prices in Malaysian ringgit per tonne
 CBOT soy oil in U.S. cents per pound
 Dalian soy oil and RBD palm olein in Chinese yuan per tonne
 India soy oil in Indian rupee per 10 kg
 Crude in U.S. dollars per barrel
(US$1 = 4.1310 ringgit)
(US$1 = 6.7091 Chinese yuan)
(US$1 = 69.6290 Indian rupees)