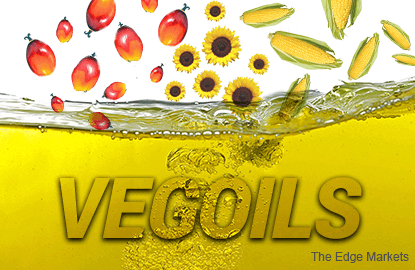 KUALA LUMPUR (Jan 23): Malaysian palm oil futures rose in early trade on Monday, on track to break a losing streak from last week, lifted by concerns about falling production.
Market signals however were mixed, traders said, as prices earlier declined to a one-week low. 
Benchmark palm oil futures for April delivery on the Bursa Malaysia Derivatives Exchange were up 0.1% at 3,104 ringgit (US$699) a tonne at the midday break. The contract earlier fell to 3,089 ringgit, its lowest level since Jan 16.
Traded volumes stood at 10,757 lots of 25 tonnes each at noon.
"There's uncertainty over production trends, despite bullish comments from Karachi over the weekend," said a futures trader from Kuala Lumpur, referring to forecasts from leading analysts at the Pakistan Edible Oils Conference on Saturday. 
"The market is expecting January to be another slow month, with close to double digit declines."     
Palm oil output has declined each month since October, in line with seasonal trends and as fruit yields continue to be hurt by the lingering dry weather impact of El Nino.
Palm oil prices are expected to hit 3,300 ringgit a tonne by early March, while Indonesian output is forecast to range between 33.5-34 million tonnes this year, said leading analyst Dorab Mistry at the conference in Pakistan.  
Palm oil may break support at 3,089 ringgit and fall towards the next support level at 3,014 ringgit, said a Reuters market analyst for commodities and energy technicals.    
In related vegetable oils, the March soybean oil contract on the CBOT was up 0.2%, while the May soybean oil contract on the Dalian Commodity Exchange fell 0.6%.
 
The May contract for Dalian palm olein fell 0.7%.
Palm prices are usually impacted by movements in prices of related edible oils, as they compete for a share in the global vegetable oils market.     
Palm, soy and crude oil prices at 0510 GMT
| | | | | | | |
| --- | --- | --- | --- | --- | --- | --- |
| Contract | Month | Last | Change | Low | High | Volume |
| MY PALM OIL | FEB7 | 3235 | +1.00 | 3230 | 3238 | 162 |
| MY PALM OIL | MAR7 | 3146 | +4.00 | 3131 | 3155 | 1703 |
| MY PALM OIL | APR7 | 3104 | +3.00 | 3089 | 3115 | 6063 |
| CHINA PALM OLEIN | MAY7 | 6244 | -46.00 | 6216 | 6280 | 284868 |
| CHINA SOYOIL | MAY7 | 6964 | -40.00 | 6944 | 6998 | 211792 |
| CBOT SOY OIL | MAR7 | 35.22 | +0.07 | 35.14 | 35.34 | 3925 |
| INDIA PALM OIL | JAN7 | 588.60 | +0.10 | 587.00 | 589.9 | 56 |
| INDIA SOYOIL | FEB7 | 717.3 | +0.15 | 717 | 718.3 | 1210 |
| NYMEX CRUDE | MAR7 | 53.13 | -0.09 | 53.06 | 53.47 | 16143 |
 Palm oil prices in Malaysian ringgit per tonne
 CBOT soy oil in U.S. cents per pound
 Dalian soy oil and RBD palm olein in Chinese yuan per tonne
 India soy oil in Indian rupee per 10 kg
 Crude in U.S. dollars per barrel
 
(US$1 = 4.4380 ringgit)
(US$1 = 68.1000 Indian rupees)
(US$1 = 6.8490 Chinese yuan)