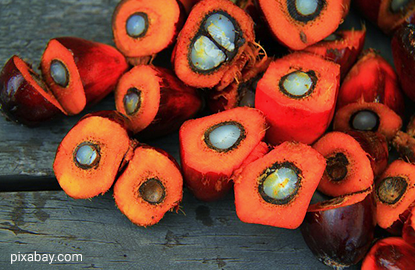 KUALA LUMPUR (Nov 30): Malaysian palm futures reversed course to gain in late trade on Wednesday as they tracked a rally in crude oil prices, following stronger prospects that oil supplies could be cut.
Saudi Arabia's energy minister said at a meeting of the Organization of the Petroleum Exporting Countries an agreement among members to cut output was close.  
"Crude oil rallied as OPEC nears a deal to cut supplies," said a palm oil trader from Kuala Lumpur, explaining palm's price gains in the evening.
"If crude oil supplies are controlled it should support the (palm oil) market. Higher crude oil prices will be more feasible for the biodiesel mandate."
Palm prices are impacted by crude oil's performance, as the tropical oil is used as component for biodiesel.
Benchmark palm oil futures for February delivery on the Bursa Malaysia Derivatives Exchange rose 0.8% to RM3,073 (US$688) a tonne at the end of the trading day.
Traded volumes stood at 47,834 lots of 25 tonnes each, slightly above the 2015 average of 44,600 lots traded in a day.
Palm oil had previously charted six consecutive days of gains, hitting a four-year high last Thursday, before declining for one session on Tuesday.
Palm oil shipments from Malaysia, the world's No.2 producer of the tropical oil, fell 10–12% for the full month of November from the previous month, according to data from cargo surveyors on Wednesday.  
In related vegetable oils, the January soybean oil contract on the CBOT rose 1.4%, while May soybeans on the Dalian Commodity Exchange dropped 0.1%.
The May contract of palm olein on the Dalian Commodity Exchange was down 1.2%.
Palm, soy and crude oil prices at 1057 GMT
| | | | | | | |
| --- | --- | --- | --- | --- | --- | --- |
| Contract          | Month    | Last  | Change     | Low   | High   | Volume |
| MY PALM OIL       | DEC6     | 3079  | +22.00    | 3035   | 3092      | 310 |
| MY PALM OIL       | JAN7     | 3076  | +17.00    | 3026   | 3086     | 1341 |
| MY PALM OIL       | FEB7     | 3073  | +23.00    | 3017   | 3083    | 25316 |
| CHINA PALM OLEIN  | MAY7     | 6212  | -72.00    | 6114   | 6266  | 1051606 |
| CHINA SOYOIL      | MAY7     | 7154  | -10.00    | 7036   | 7214  | 1091496 |
| CBOT SOY OIL      | JAN7    | 37.15   | +0.55   | 36.52  | 37.26    | 21528 |
| INDIA PALM OIL    | NOV6   | 554.40   | +0.90  | 553.20  | 554.7      | 301 |
| INDIA SOYOIL      | DEC6    | 722.3   | +7.40  | 712.55  | 723.7    | 22560 |
| NYMEX CRUDE       | JAN7    | 47.97   | +2.74   | 45.22  | 48.22   | 274040 |
Palm oil prices in Malaysian ringgit per tonne
CBOT soy oil in US cents per pound
Dalian soy oil and RBD palm olein in Chinese yuan per tonne
India soy oil in Indian rupee per 10 kg
Crude in US dollars per barrel
(US$1 = RM4.4640)
(US$1 = 68.4550 Indian rupees)
(US$1 = 6.8807 Chinese yuan)