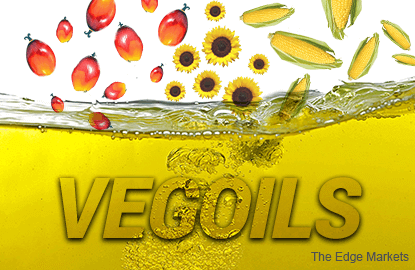 KUALA LUMPUR (Feb 23): Malaysian palm oil futures fell on Thursday, in line for their fifth session of losses in six, as concerns persisted on rising production and weak exports.
Benchmark palm oil futures for May on the Bursa Malaysia Derivatives Exchange declined 1.4% to RM2,770 (US$623.03) a tonne at the midday break. The contract dropped to as low as RM2,767, close to the three-and-a-half-month low of RM2,763 touched on Wednesday.
Palm had gained about 1% on Wednesday, snapping four previous sessions of losses, but lost nearly 9% since the start of last week.         
Traded volumes stood at 38,195 lots of 25 tonnes each at noon.
"After four days of drop the market pulled back, but now it is coming down again. People feel that there is more production coming, and demand is slowing down," said a trader from Kuala Lumpur.
"There is also too much pressure from soyoil," he said.
Lower prices of soyoil makes it more attractive as the preferred edible oil in top consumers such as China and India.
Palm oil demand for the full month of February is expected to fall after shipments rose in January over the Chinese Lunar New Year celebrations.
Exports declined 0.8% in the Feb 1-20 time period from the same period last month, according to data from cargo surveyor Intertek Testing Services.
However, data from another cargo surveyor, Societe Generale de Surveillance, showed that demand rose 1.7%.
Output is forecast to rise in February as palm's fresh fruit yields are seen recovering from the El Nino's crop damaging effects. Government data showed it had declined 13.4% in January, its sharpest drop in a year and its lowest level since March.
Palm oil may test a support at RM2,750 per tonne, a break below which could cause a loss to the next support at RM2,703, said Wang Tao, a Reuters market analyst for commodities and energy technicals.
In related vegetable oils, soybean oil on the Chicago Board of Trade fell 0.2%, while the soybean oil contract on the Dalian Commodity Exchange declined 0.8%.
The May contract for palm olein on China's Dalian Commodity Exchange declined 1.2%.
Palm, soy and crude oil prices at 0538 GMT
| | | | | | | |
| --- | --- | --- | --- | --- | --- | --- |
| Contract          | Month    | Last  | Change     | Low   | High   | Volume |
| MY PALM OIL       | MAR7     | 2944  | -78.00    | 2944   | 2996      | 879 |
| MY PALM OIL       | APR7     | 2820  | -55.00    | 2817   | 2877     | 3465 |
| MY PALM OIL       | MAY7     | 2770  | -39.00    | 2767   | 2810    | 16524 |
| CHINA PALM OLEIN  | MAY7     | 5782  | -70.00    | 5780   | 5918   | 449954 |
| CHINA SOYOIL      | MAY7     | 6578  | -58.00    | 6576   | 6676   | 251294 |
| CBOT SOY OIL      | MAR7    | 32.64   | -0.08   | 32.57  | 32.91     | 2042 |
| INDIA PALM OIL    | FEB7   | 542.00   | -6.60  | 539.70  | 544.2      | 332 |
| INDIA SOYOIL      | MAR7    | 649.6   | -5.20   | 648.5  | 652.6     | 6150 |
| NYMEX CRUDE       | APR7    | 54.08   | +0.49   | 53.87  | 54.13    | 19801 |
Palm oil prices in Malaysian ringgit per tonne
CBOT soy oil in US cents per pound
Dalian soy oil and RBD palm olein in Chinese yuan per tonne
India soy oil in Indian rupee per 10 kg
Crude in US dollars per barrel
(US$1 = RM4.4460)
(US$1 = 66.9025 Indian rupees)
(US$1 = 6.8783 Chinese yuan)