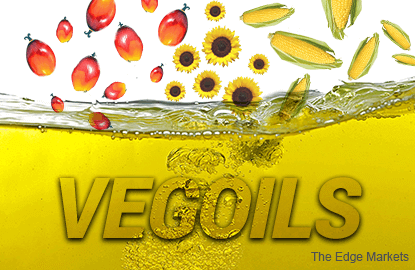 KUALA LUMPUR (Feb 28): Malaysian palm oil futures recovered late on Tuesday, tracking stronger soyoil prices after hitting their lowest level in nearly four months earlier in the day.
Benchmark palm oil futures for May on the Bursa Malaysia Derivatives Exchange ended the session 0.6% higher at 2,770 ringgits (US$624) a tonne.
Earlier, they fell to 2,723 ringgits, their weakest level since Nov 2. Palm has posted two consecutive weeks of declines, shedding 8.6% as output is seen rising and export demand remains weak.
Traded volumes stood at 80,222 lots of 25 tonnes each.
Traders in Kuala Lumpur said the market was tracking stronger soyoil on the Chicago Board of Trade and one said the market would probably be stuck in a range for the next few days in the absence of any bullish signals.
Palm oil shipments from Malaysia, the world's second-largest palm oil producer after Indonesia, fell between 12% and 14.2% in February from a month earlier, ccording to data from cargo surveyors on Tuesday.
Output is expected to rise from now and through the second quarter of the year, following a recovery in fresh fruit yields.
The El Nino weather pattern hit production in late 2015 and 2016, but analysts forecast its impact would wear off this year.   
In related vegetable oils, soybean oil on the Chicago Board of Trade was up 0.4%, while the soybean oil contract on the Dalian Commodity Exchange fell 0.4%. 
The May contract for palm olein on the Dalian Commodity Exchange was down 0.8%.
Palm prices are affected by movements of related edible oils, as they compete for a share of the global vegetable oils market.
Palm, soy and crude oil prices at 1031 GMT
| | | | | | | |
| --- | --- | --- | --- | --- | --- | --- |
| Contract | Month | Last | Change | Low | High | Volume |
| MY PALM OIL | MAR7 | 2898 | -22.00 | 2866 | 2917 | 650 |
| MY PALM OIL | APR7 | 2810 | +8.00 | 2770 | 2813 | 3560 |
| MY PALM OIL | MAY7 | 2767 | +13.00 | 2723 | 2773 | 35810 |
| CHINA PALM OLEIN | MAY7 | 5786 | -44.00 | 5742 | 5826 | 530672 |
| CHINA SOYOIL | MAY7 | 6572 | -24.00 | 6534 | 6598 | 298660 |
| CBOT SOY OIL | MAY7 | 32.75 | +0.15 | 32.55 | 32.8 | 8000 |
| INDIA PALM OIL | FEB7 | 545.00 | +0.10 | 544.40 | 545.6 | 431 |
| INDIA SOYOIL | MAR7 | 659.4 | +5.15 | 654.5 | 661.5 | 25200 |
| NYMEX CRUDE | APR7 | 53.96 | -0.09 | 53.84 | 54.23 | 74067 |
Palm oil prices in Malaysian ringgit per tonne
 CBOT soy oil in U.S. cents per pound
 Dalian soy oil and RBD palm olein in Chinese yuan per tonne
 India soy oil in Indian rupee per 10 kg
 Crude in U.S. dollars per barrel
 
(US$1 = 4.4380 ringgit)
(US$1 = 66.7350 Indian rupees)
(US$1 = 6.8680 Chinese yuan)