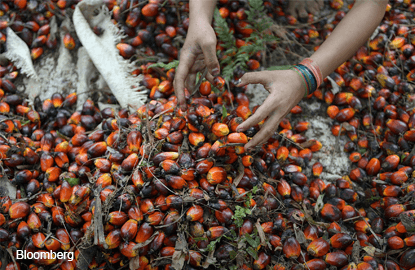 KUALA LUMPUR (Feb 22): Malaysian palm oil futures rose in early trade on Wednesday from a three-and-a-half-month low hit in the previous session, supported by bargain-buying, but expectations of higher supplies and weak demand persisted.
Benchmark palm oil futures for May on the Bursa Malaysia Derivatives Exchange gained 0.7% to RM2,802 (US$629.10) a tonne at the midday break. But the contract earlier fell to RM2,778, little changed from the previous session's low of RM2,777, the weakest since Nov 8. Palm futures have posted four straight losing sessions.
Traded volumes stood at 28,741 lots of 25 tonnes each.
"The market is up mainly on bargain-buying after the sharp drop yesterday," said a futures trader based in Kuala Lumpur, but added that prices could drop in the second half of trade as the market still held concerns over rising production.
Another trader said that more competitive soyoil and weak demand added pressure on palm prices.
"There is an abundant supply of soyoil, giving buyers an option to pick up soy instead of palm," he said.
"The market is also devoid of strong trades."
Palm oil demand usually rises ahead of festivities for cooking purposes in countries such as China and India, the world's top two consumers of the vegetable oil.  
Shipments declined 0.8% in the Feb 1–20 time period from the same period last month, according to data from cargo surveyor Intertek Testing Services.
However, data from another cargo surveyor, Societe Generale de Surveillance, showed that exports rose 1.7%.
Palm oil may break a support at RM2,780 per tonne and fall more towards the next support at RM2,750, according to Reuters market analyst for commodities and energy technicals Wang Tao.
In related vegetable oils, soybean oil on the Chicago Board of Trade rose 0.5%, while the soybean oil contract on the Dalian Commodity Exchange fell 1%.
The May contract for palm olein on China's Dalian Commodity Exchange declined 1.3%.
Palm, soy and crude oil prices at 0446 GMT
| | | | | | | |
| --- | --- | --- | --- | --- | --- | --- |
| Contract          | Month    | Last  | Change     | Low    | High  | Volume |
| MY PALM OIL       | MAR7     | 3033   | +9.00    | 3012    | 3033     | 322 |
| MY PALM OIL       | APR7     | 2885  | +17.00    | 2867    | 2894    | 2211 |
| MY PALM OIL       | MAY7     | 2802  | +19.00    | 2778    | 2807   | 12667 |
| CHINA PALM OLEIN  | MAY7     | 5830  | -76.00    | 5820    | 5878  | 358160 |
| CHINA SOYOIL      | MAY7     | 6624  | -64.00    | 6606    | 6668  | 240962 |
| CBOT SOY OIL      | MAR7    | 32.83   | +0.16   | 32.71   | 32.84    | 4326 |
| INDIA PALM OIL    | FEB7   | 548.40   | -0.20  | 547.90   | 549.4      | 29 |
| INDIA SOYOIL      | MAR7   | 655.95   | +0.00   | 655.7  | 657.25     | 740 |
| NYMEX CRUDE       | APR7    | 54.48   | +0.15   | 54.22   | 54.60   | 13729 |
Palm oil prices in Malaysian ringgit per tonne
CBOT soy oil in US cents per pound
Dalian soy oil and RBD palm olein in Chinese yuan per tonne
India soy oil in Indian rupee per 10 kg
Crude in US dollars per barrel
(US$1 = RM4.4540)
(US$1 = 66.8900 Indian rupees)
(US$1 = 6.8790 Chinese yuan)