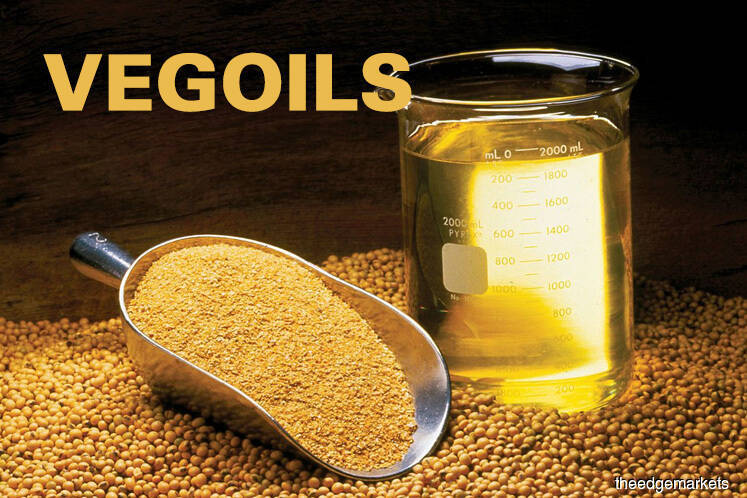 KUALA LUMPUR (Feb 21): Malaysian palm oil futures recovered from a one-month low on Thursday, tracking strength in U.S. soyoil and snapping two sessions of declines.       
The benchmark palm oil contract for May delivery on the Bursa Malaysia Derivatives Exchange closed 0.9% higher at 2,264 ringgit (US$555.45) a tonne at the end of the trading day. 
Trading volumes stood at 31,648 lots of 25 tonnes each.
"Palm gained as overseas markets recovered, and also on technical buying," said a Kuala Lumpur-based trader. 
Palm oil prices are affected by movements in soyoil, as they compete for a share in the global vegetable oil market.
Earlier, the market fell to an intraday low of 2,234 ringgit, its lowest levels since Jan 18, on a weaker demand outlook.
Malaysia's palm oil exports from Feb 1-20 slightly rose 0.03%-0.8% from a month earlier, AmSpec Agri Malaysia and Intertek Testing Services reported on Wednesday.
Another cargo surveyor, Societe Generale de Surveillance, however reported that exports fell 4.6% in the same period.
In other related oils, the Chicago March soybean oil contract rose 0.3%, while the May soyoil contract on the Dalian Commodity Exchange declined 0.6%.
Meanwhile, the Dalian May palm oil contract declined 1.3%.
    
 Palm, soy and crude oil prices at 1111 GMT
  
 Contract          Month    Last  Change     Low    High  Volume
 MY PALM OIL       MAR9     2145  +11.00    2119    2147     210
 MY PALM OIL       APR9     2233  +21.00    2202    2235    5016
 MY PALM OIL       MAY9     2263  +19.00    2234    2266   14860
 CHINA PALM OLEIN  MAY9     4708  -60.00    4688    4732  366372
 CHINA SOYOIL      MAY9     5692  -36.00    5662    5714  332160
 CBOT SOY OIL      MAR9    30.06   +0.10    29.9   30.13    8090
 INDIA PALM OIL    FEB9   565.80   -4.00  565.20   570.6     688
 INDIA SOYOIL      MAR9    766.2   -2.80   765.6  770.45    5320
 NYMEX CRUDE       APR9    57.43   +0.27   56.96   57.49  108369
  
 Palm oil prices in Malaysian ringgit per tonne
 CBOT soy oil in U.S. cents per pound
 Dalian soy oil and RBD palm olein in Chinese yuan per tonne
 India soy oil in Indian rupee per 10 kg
 Crude in U.S. dollars per barrel
 
(US$1 = 4.0760 ringgit)
(US$1 = 71.1810 Indian rupees)
(US$1 = 6.7166 Chinese yuan)