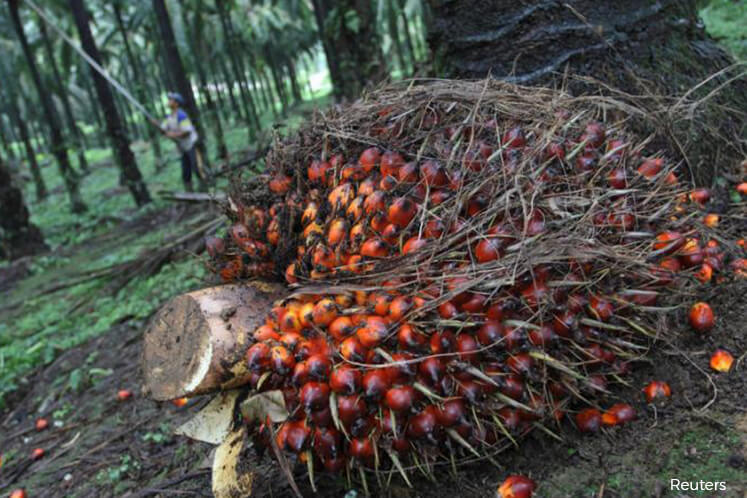 KUALA LUMPUR (March 28): Malaysian palm oil futures rebounded in early trade on Tuesday, up from a five-month low touched in the previous session, tracking a revival in soyoil on the Chicago Board of Trade.
Benchmark palm oil futures for June delivery on the Bursa Malaysia Derivatives Exchange gained 1.3% to RM2,730 (US$618.35) a tonne at the midday break, in line for its first gain in four sessions and the strongest daily gain in two weeks.
Traded volumes stood at 14,001 lots of 25 tonnes each at noon.
"Palm is up due to soybean oil... which is holding up and is supportive for palm," said a futures trader from Kuala Lumpur.
"In the short term I see prices going back up, but output should also be picking up."
Palm has been range-bound since late-February with market signals mixed, as demand remains weak and output growth is still uncertain, according to traders. It is in line for a third weekly decline in four, losing 1.7% on a weekly basis last week.
Malaysian production in February dropped 1.4% on month. March data is however expected to show a recovery in line with the seasonal trend.
Palm oil prices often take direction from related vegetable oils, including soyoil, as they compete for a share in the global vegetable oil market.     
Soybean oil on the Chicago Board of Trade fell as much as 2% on Monday over concerns about rising supplies, before rising 0.2% on Tuesday.
In other related edible oils, the September soybean oil contract on the Dalian Commodity Exchange dropped 0.6%, while the September contract for palm olein on the Dalian Commodity Exchange fell 0.4%.
Palm, soy and crude oil prices at 0459 GMT
| | | | | | | |
| --- | --- | --- | --- | --- | --- | --- |
| Contract          | Month    | Last  | Change     | Low   | High   | Volume |
| MY PALM OIL       | APR7     | 2875  | +32.00    | 2867   | 2884       | 48 |
| MY PALM OIL       | MAY7     | 2805  | +34.00    | 2786   | 2806      | 833 |
| MY PALM OIL       | JUN7     | 2730  | +35.00    | 2709   | 2731     | 8929 |
| CHINA PALM OLEIN  | SEP7     | 5426  | -20.00    | 5362   | 5438   | 305096 |
| CHINA SOYOIL      | SEP7     | 6226  | -40.00    | 6158   | 6240   | 380600 |
| CBOT SOY OIL      | MAY7    | 32.34   | +0.05   | 32.24  | 32.41     | 5121 |
| INDIA PALM OIL    | MAR7   | 534.50   | +3.20  | 532.70  | 535.6       | 58 |
| INDIA SOYOIL      | APR7    | 638.4   | +2.25  | 637.15    | 639     | 1610 |
| NYMEX CRUDE       | MAY7    | 47.99   | +0.26   | 47.80  | 48.00    | 14877 |
Palm oil prices in Malaysian ringgit per tonne
CBOT soy oil in US cents per pound
Dalian soy oil and RBD palm olein in Chinese yuan per tonne
India soy oil in Indian rupee per 10 kg
Crude in US dollars per barrel
(US$1 = RM4.4150)
(US$1 = 64.9700 Indian rupees)
(US$1 = 6.8827 Chinese yuan)