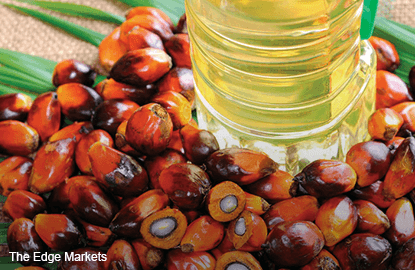 KUALA LUMPUR (Feb 15): Malaysian palm oil futures saw their strongest daily gains in nearly two weeks on Wednesday after hitting a near three-month low in the previous session, aided by positive export numbers.
Benchmark palm oil futures for April delivery on the Bursa Malaysia Derivatives Exchange rose 0.6% at RM3,067 (US$689.68) a tonne at the end of the trading day.
Traded volumes stood at 51,973 lots of 25 tonnes each in the evening.
"Market is holding well but quiet, supported by weak ringgit amid expectations that the Fed is likely to raise the interest rate and good export figures. However, weak Dalian and lower crude oil capped upside," said a from Kuala Lumpur-based futures trader.
Palm oil exports edged up 1.4% for Feb 1 to Feb 15, cargo surveyor Intertek Testing Services said.
Another cargo surveyor Societe Generale de Surveillance reported after the close of trade however that Malaysian palm oil shipments fell 3.6% in the first half of February from last month.
"Market is lacklustre today, there is no clear direction. Export data is up but there is no strong external factor to move the market," another trader said, adding that trading will likely be in the range of RM50 to RM70 on Wednesday.
Palm oil may test resistance at RM3,089, as it has managed to stay above support at RM3,014 per tonne, Wang Tao, a Reuters market analyst for commodities and energy technicals said.
In other related edible oils, the March soybean oil contract on the Chicago Board of Trade climbed as much as 0.2%, while the May soybean oil contract on the Dalian Commodity Exchange slipped 0.6%.
The May contract for Dalian palm olein dropped as much as 0.4%.
Palm, soy and crude oil prices at 1045 GMT
| | | | | | | |
| --- | --- | --- | --- | --- | --- | --- |
| Contract          | Month    | Last  | Change     | Low    | High  | Volume |
| MY PALM OIL       | FEB7     | 3306  | +24.00    | 3306    | 3306      | 79 |
| MY PALM OIL       | MAR7     | 3200  | +33.00    | 3166    | 3200    | 2167 |
| MY PALM OIL       | APR7     | 3069  | +18.00    | 3051    | 3075   | 18209 |
| CHINA PALM OLEIN  | MAY7     | 6112  | -26.00    | 6060    | 6136  | 565642 |
| CHINA SOYOIL      | MAY7     | 6830  | -42.00    | 6812    | 6882  | 363660 |
| CBOT SOY OIL      | MAR7    | 34.21   | +0.07   | 34.11   | 34.25    | 4108 |
| INDIA PALM OIL    | FEB7   | 569.70   | +4.50  | 567.00   | 573.7     | 699 |
| INDIA SOYOIL      | FEB7    | 688.5   | +0.00  | 687.35   | 690.7    | 2430 |
| NYMEX CRUDE       | MAR7    | 52.94   | -0.26   | 52.73   | 53.10   | 61305 |
Palm oil prices in Malaysian ringgit per tonne
CBOT soy oil in US cents per pound
Dalian soy oil and RBD palm olein in Chinese yuan per tonne
India soy oil in Indian rupee per 10 kg
Crude in US dollars per barrel
(US$1 = RM4.4470)
(US$1 = 66.9000 Indian rupees)
(US$1 = 6.8630 Chinese yuan)