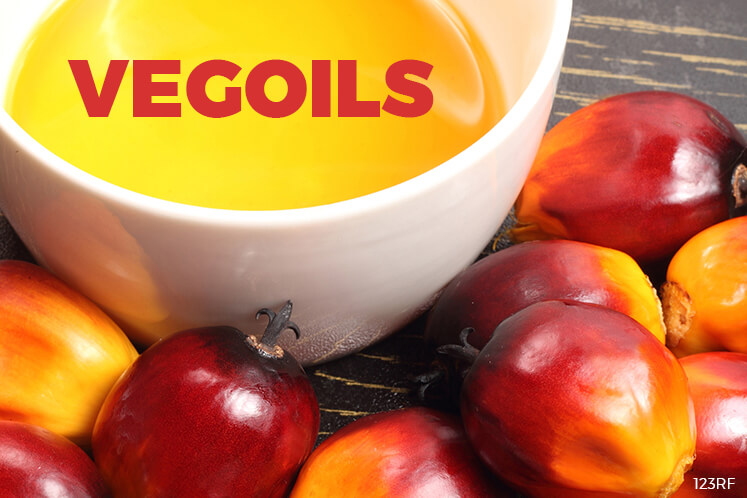 KUALA LUMPUR (March 31): Malaysian palm oil futures rebounded on Friday from a more than five-month low hit the previous day as stronger export outlook and a weaker ringgit lent support, but the contract was headed for a 14.5% drop on the quarter.
Benchmark palm oil futures for June delivery on the Bursa Malaysia Derivatives Exchange rose 1% at RM2,685 (US$606.92) a tonne at the midday break, but declined 3.5% for the week. The contract was in line for third gain in four sessions.
Traded volumes stood at 16,408 lots of 25 tonnes each at noon.
"The ringgit weakened today, and the market was technically oversold," said a futures trader from Kuala Lumpur, referring to a sharp decline in the previous trading session, when it fell to a more than five-month low of RM2,656.
A weaker ringgit typically makes palm oil cheaper for buyers holding foreign currencies. It fell 0.1% against the US dollar on Monday around noon, hitting its weakest in a week.
"Talk that exports can be good in April also encouraged covering on dips," the trader said.
Palm oil shipments from Malaysia, the world's no.2 producer of the tropical oil, rose 6.8% for the full month of March versus the previous month, data from cargo surveyor Intertek Testing Services showed.
Demand for palm oil is expected to rise in April, as buyers stock up ahead of Ramadan, the Muslim festival at the end of May, marked by month-long fasting in regions such as India and the Middle East.
The festival results in higher palm oil consumption for cooking purposes, as Muslims break their fasts daily with feasts.
In other related edible oils, soybean oil on the Chicago Board of Trade slipped 0.1%, while the September soybean oil contract on the Dalian Commodity Exchange declined as much as 0.9%.
The September contract for palm olein on the Dalian Commodity Exchange was down 0.3%.
Palm, soy and crude oil prices at 0556 GMT
| | | | | | | |
| --- | --- | --- | --- | --- | --- | --- |
| Contract          | Month    | Last  | Change     | Low    | High  | Volume |
| MY PALM OIL       | APR7     | 2851  | +20.00    | 2825    | 2851      | 48 |
| MY PALM OIL       | MAY7     | 2776  | +36.00    | 2758    | 2780     | 950 |
| MY PALM OIL       | JUN7     | 2685  | +26.00    | 2671    | 2690    | 8351 |
| CHINA PALM OLEIN  | SEP7     | 5376  | -18.00    | 5308    | 5388  | 221012 |
| CHINA SOYOIL      | SEP7     | 6094  | -60.00    | 6076    | 6144  | 237636 |
| CBOT SOY OIL      | MAY7    | 31.96   | -0.05   | 31.87   | 32.11    | 3281 |
| INDIA PALM OIL    | MAR7   | 538.60   | +0.10  | 538.60     | 539     | 187 |
| INDIA SOYOIL      | APR7    | 637.8   | +0.30  | 637.65   | 639.4    | 1620 |
| NYMEX CRUDE       | MAY7    | 50.11   | -0.24   | 50.08   | 50.37   | 18845 |
Palm oil prices in Malaysian ringgit per tonne
CBOT soy oil in US cents per pound
Dalian soy oil and RBD palm olein in Chinese yuan per tonne
India soy oil in Indian rupee per 10 kg
Crude in US dollars per barrel
(US$1 = RM4.4240)
(US$1 = 64.8350 Indian rupees)
(US$1 = 6.8968 Chinese yuan)