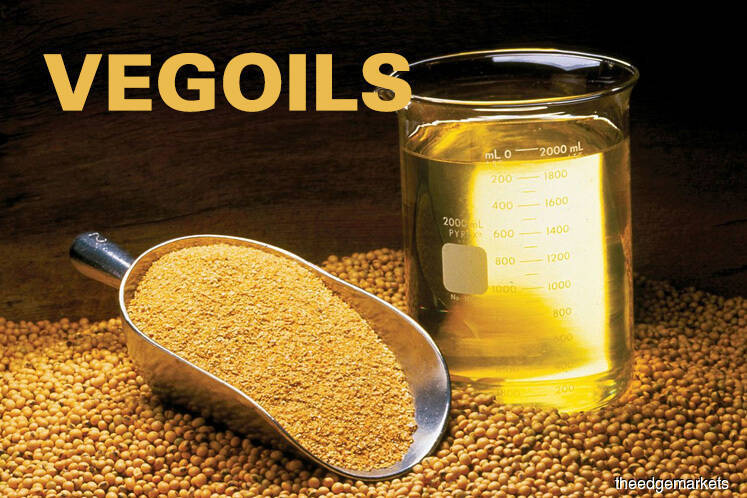 KUALA LUMPUR (April 15): Malaysian palm oil futures traded mostly range bound in the first half on Monday due to lack of bullish news, but edged lower at midday break as stockspiles remained high.
The benchmark palm oil contract for June delivery on the Bursa Malaysia Derivatives Exchange was down 0.1% at RM2,159 (US$525.30) a tonne at the midday break.
The market had declined 2.8% on a weekly basis last week, but is up 2.5% so far for the month.
"Stocks still look high," said a Kuala Lumpur-based trader, adding that inventory levels could still rise in April if exports slow down.
Recent data from the Malaysian Palm Oil Board (MPOB) showed March end-stocks dropped 4.6% to 2.92 million tonnes from February.
Another futures trader in Kuala Lumpur added that the market was likely to remain range trading on a lack of bullish news.
Malaysian palm oil shipments for the first half of April rose 1.5% from the corresponding period last month, according to independent inspection company AmSpec Agri Malaysia on Monday.
Another cargo surveyor, Intertek Testing Services, reported on Monday a 5.1% rise for the same time period.
Palm oil looks neutral in a narrow range of RM2,155-2,177 per tonne, said Wang Tao, a Reuters market analyst for commodities and energy technicals.
In other related oils, Chicago May soybean oil contract was last trading flat at 0520 GMT, and the May soyoil contract on the Dalian Commodity Exchange was slightly up 0.04%.
The Dalian May palm oil contract was also trading flat.
Palm oil prices are affected by movements in soyoil, as they compete for a share in the global vegetable oil market.
Palm, soy and crude oil prices at 0520 GMT
| | | | | | | |
| --- | --- | --- | --- | --- | --- | --- |
| Contract          | Month    | Last   | Change     | Low   | High  | Volume |
| MY PALM OIL       | APR9     | 2100   | +62.00    | 2100   | 2100      | 40 |
| MY PALM OIL       | MAY9     | 2102    | -7.00    | 2091   | 2111     | 951 |
| MY PALM OIL       | JUN9     | 2159    | -3.00    | 2156   | 2172    | 8203 |
| CHINA PALM OLEIN  | MAY9     | 4462    | +0.00    | 4456   | 4486   | 31474 |
| CHINA SOYOIL      | MAY9     | 5430    | +2.00    | 5426   | 5458   | 51996 |
| CBOT SOY OIL      | MAY9    | 28.95    | +0.00   | 28.92  | 28.98    | 1448 |
| INDIA PALM OIL    | APR9   | 534.80    | +0.50  | 533.80  | 536.4      | 57 |
| INDIA SOYOIL      | APR9   | 739.25    | +0.20  | 739.25  | 740.1      | 60 |
| NYMEX CRUDE       | MAY9    | 63.57    | -0.32   | 63.41  | 63.84   | 32614 |
Palm oil prices in Malaysian ringgit per tonne
CBOT soy oil in US cents per pound
Dalian soy oil and RBD palm olein in Chinese yuan per tonne
India soy oil in Indian rupee per 10 kg
Crude in US dollars per barrel
(US$1 = RM4.1100)
(US$1 = 6.7089 Chinese yuan)
(US$1 = 69.2910 Indian rupees)