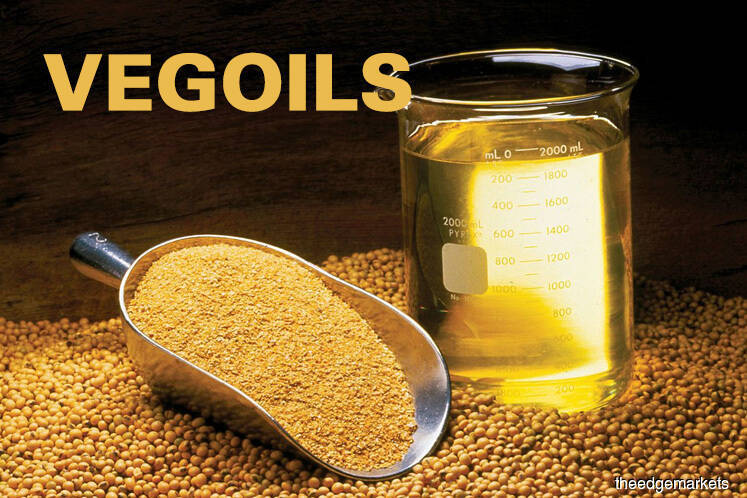 KUALA LUMPUR (April 12): Malaysian palm oil futures rose on Friday, boosted by weakness in the ringgit and market anticipation of a potential government deal with China.
The ringgit, which has been weakening since April 3, fell to its lowest since Jan 28. A weaker ringgit, the currency in which the futures are traded, makes the commodity more attractive to buyers holding foreign notes.
The benchmark palm oil contract for June delivery on the Bursa Malaysia Derivatives Exchange was up 0.65% at 2,168 ringgit (US$526.47) a tonne at midday break.
Palm's upward movement reversed some losses in the last two sessions, which saw the futures dragged to a one-week low in the previous session due to a rising production outlook.
The market dropped as much as 2% on Wednesday as official data from the Malaysian Palm Oil Board (MPOB) showed March end-stocks and production at higher levels than expected.
"Market is bottoming out from the support level of 2,148 to 2,150 ringgit per tonne with supportive weakness in the ringgit," said a Kuala Lumpur-based trader. 
Another trader said the market was also looking out for Malaysia and China's announcement regarding the East Coast Rail Link project expected in the afternoon that could favour the palm oil industry.
Local media reported earlier this week that negotiations on the China-backed rail project could include a palm oil exports deal for Malaysia.
In other related oils, Chicago May soybean oil contract slipped 0.1%, and the May soyoil contract on the Dalian Commodity Exchange eased 0.2%. 
Meanwhile, the Dalian May palm oil contract rose 0.4%.
Palm oil prices are affected by movements in soyoil, as they compete for a share in the global vegetable oil market. 
        
 Palm, soy and crude oil prices at 0503 GMT
| | | | | | | |
| --- | --- | --- | --- | --- | --- | --- |
| Contract | Month | Last | Change | Low | High | Volume |
| MY PALM OIL | APR9 | 0 | +0.00 | 0 | 0 | 0 |
| MY PALM OIL | MAY9 | 2120 | +9.00 | 2111 | 2125 | 290 |
| MY PALM OIL | JUN9 | 2168 | +14.00 | 2150 | 2172 | 6595 |
| CHINA PALM OLEIN | MAY9 | 4474 | +18.00 | 4442 | 4480 | 71434 |
| CHINA SOYOIL | MAY9 | 5432 | -12.00 | 5414 | 5438 | 57452 |
| CBOT SOY OIL | MAY9 | 28.96 | -0.02 | 28.9 | 28.97 | 1318 |
| INDIA PALM OIL | APR9 | 537.40 | +2.80 | 535.00 | 539.3 | 147 |
| INDIA SOYOIL | APR9 | 741 | +0.60 | 739.6 | 741 | 70 |
| NYMEX CRUDE | MAY9 | 63.86 | +0.28 | 63.66 | 63.86 | 20803 |
 Palm oil prices in Malaysian ringgit per tonne
 CBOT soy oil in U.S. cents per pound
 Dalian soy oil and RBD palm olein in Chinese yuan per tonne
 India soy oil in Indian rupee per 10 kg
 Crude in U.S. dollars per barrel
 
(US$1 = 4.1180 ringgit)
(US$1 = 6.7190 Chinese yuan)
(US$1 = 69.0710 Indian rupees)