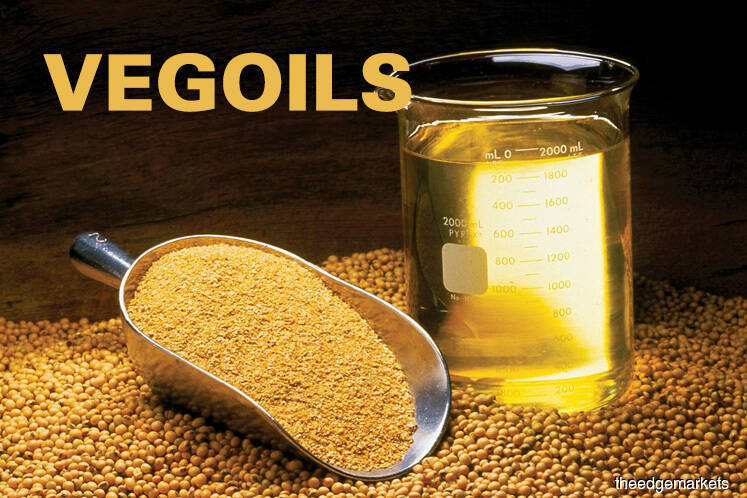 MUMBAI (July 1): Malaysian palm oil futures rebounded on Monday from their lowest level in seven months, following gains in rival soyoil and on hopes export demand would improve due to the recent correction in prices.
The benchmark palm oil contract on the Bursa Malaysia Derivatives Exchange was up 0.82%, or RM16, at RM1,967 (US$476.04) per tonne by the midday break.
On Friday, it fell to its lowest since Nov 27, 2018 at RM1,946.
In June quarter, the tropical oil has shed 7%, posting its seventh quarterly drop in a row.
"Palm is taking support from the US and Chinese market," said one Kuala Lumpur-based trader, referring to Monday's move.
Chicago soybean futures rose for a second session on Monday to a one-year high as a thaw in US-China trade relations following talks between the two nations underpinned the market.
US soyoil futures were up 0.8% on Monday morning after rising 1.6% on Friday.
The upside in the palm oil could be temporary as the exports are not picking up and the production is set to rise in coming months, said another Kuala Lumpur-based trader.
On Friday, cargo surveyors Intertek Testing Services said exports of Malaysian palm oil products for June fell 19.9% to 1,343,428 tonnes from 1,677,639 tonnes shipped during May.
Independent inspection company AmSpec Agri Malaysia said exports fell 19.6% month-on-month for the same period.
Palm oil production typically rises during the third and fourth quarters, and has tended to peak between August and October in recent years.
Palm oil may fall to RM1,929, as it has broken a support at RM1,971 per tonne, Wang Tao, a Reuters analyst for commodities technicals said on Monday.
The upside in crude oil was also supporting palm oil on Monday, analysts said.
Oil prices rose more than US$1 a barrel on Monday after Saudi Arabia, Russia, Iraq backed an extension of supply cuts for another six to nine months ahead of an OPEC meeting this week.
(US$1 = RM4.1320)