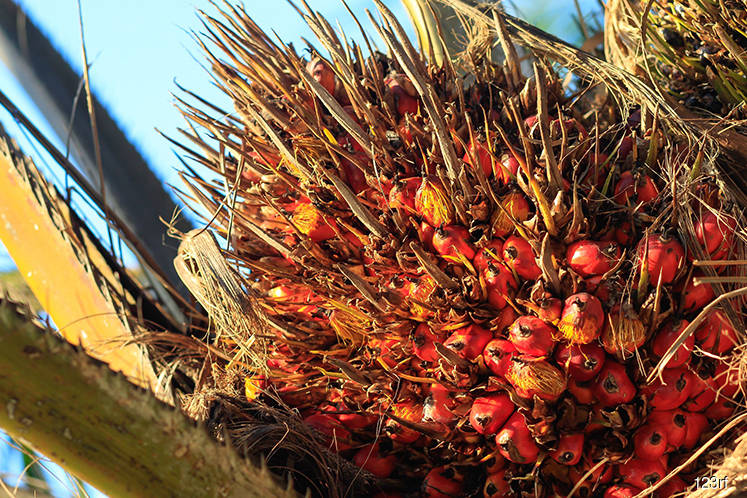 KUALA LUMPUR/JAKARTA (Dec 18): Palm oil bulls are betting on prices to bounce back next year, even though the tropical commodity may have to endure a rough patch first.
Benchmark futures in Malaysia could drop to the year's low of RM1,980 ($474) a metric ton in the first quarter, before rising to about RM2,400 around the middle of 2019, according to the median of estimates from 15 traders, analysts and plantation executives compiled by Bloomberg.
That will offer some relief to growers of the world's most consumed edible oil found in everything from shampoo to confectionery. Prices have slumped almost 20 percent for a second straight year, pulled down by rising supplies in the world's top producers Indonesia and Malaysia, and lackluster demand from the largest users China and India. Stockpiles in Malaysia surged to a record in November, and may climb further, according Kenanga Investment Bank.
Oversupply pushed prices down as low as RM1,940 in November, the cheapest in more than three years, though they've since perked up to RM2,122 on Tuesday. Eleven of the survey respondents said they're bullish on palm in 2019, helped by rising usage in biofuel, increasing demand from China and India because of a wide discount to soybean oil, and the possibility of an El Nino event, which usually causes drought in Southeast Asian growing areas.
"The success of biofuel mandates from Indonesia and Malaysia and further improvements in palm methyl ester exports would be the key for palm oil," said Anilkumar Bagani, research head at Sunvin Group, a Mumbai-based broker and consultant, referring to biodiesel by its technical name.
That, along with seasonally lower production and more buying from India and China because of the discount to soybean oil and sunflowerseed oil, should result in higher palm prices, Bagani said.
Palm oil will be one of the agriculture crops most vulnerable to a price rise triggered by El Nino, according to Fitch Solutions. El Nino-linked dry spells can curb palm yields six months later and may cause trees to under-produce for as long as two years after a drought ends. Futures may climb to RM2,500 if an El Nino develops or if production drops more than expected, veteran analyst Dorab Mistry, director of Godrej International, said in November.
Predictions for palm's highest price next year range between RM2,100 and RM2,600 , according to the survey. Estimates for the weakest price range from RM1,750 to RM2,200, with a majority of respondents on the timing expecting the low point to be reached in the first quarter.
Not Just Upside
Weak petroleum prices could reduce the competitive advantage of palm in biofuel, while a global glut of soybeans may weigh on prices of edible oils generally. A simmering trade conflict between the U.S. and China will be a further negative influence on the market if there is no resolution.
"Trade policies will continue to be the dominant theme enveloping global markets, including palm," said Sathia Varqa, owner of Palm Oil Analytics in Singapore. "U.S.-China trade talks or 'noise' will keep the market on tenterhooks, so embrace volatility and expect uncertainty."
And there are the orangutans too. Allegations that expanding plantations have destroyed habitats of orangutans and other endangered animals have left producers struggling to improve perception and marketability of the tropical oil, despite efforts to improve sustainability standards. 
Demand in Europe may stagnate in the coming quarters because of weaker growth and negative sentiment, according to Fitch Solutions.