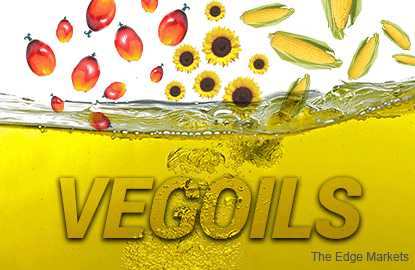 KUALA LUMPUR (March 23): Malaysian palm oil futures on Thursday were on track for their sharpest daily fall in nearly two weeks, weighed down by weaker performing related edible oils.
At the midday break, benchmark palm oil futures for June delivery on the Bursa Malaysia Derivatives Exchange were down 1.2% at 2,794 ringgit (US$631) a tonne, falling from a near-two-week high of 2,839 ringgit hit in the previous session.
Traded volumes stood at 19,053 lots of 25 tonnes each on Thursday noon.
"The overseas market is weaker, and there has been some technical selling since prices are unable to climb to new highs today," said a Kuala Lumpur-based futures trader, referring to related vegetable oils on China's Dalian Commodity Exchange and the Chicago Board of Trade.
Palm oil prices are impacted by the performances of other edible oils, as they compete for a share in the global vegetable oils market. Soybean oil on the Chicago Board of Trade slipped as much as 0.5%, while the September soybean oil contract on the Dalian Commodity Exchange fell up to 1.5%.
The September contract for palm olein on the Dalian Commodity Exchange dropped as much as 1.2%.
Palm oil has been trading range-bound for the past two weeks, as slow export demand and uncertainty over output levels affected sentiment, said traders.
Exports of palm oil products from Malaysia, the world's second-largest producer of the tropical oil, dropped between March 1 and March 20 versus the corresponding period last month.
Cargo surveyor Intertek Testing Services reported a 3% drop in shipments, while Societe Generale de Surveillance saw a decline of 7.9%.
Production usually sees seasonal gains on-month in March, but industry players remain uncertain about the extent of recovery. Palm oil trees are still seeing the effects of a crop-damaging El Nino, which reduces yields of fresh fruit bunches and lowers overall output.
 Palm, soy and crude oil prices at 0447 GMT
| | | | | | | |
| --- | --- | --- | --- | --- | --- | --- |
| Contract | Month | Last | Change | Low | High | Volume |
| MY PALM OIL | APR7 | 2975 | +0.00 | 2975 | 2975 | 8 |
| MY PALM OIL | MAY7 | 2860 | -36.00 | 2859 | 2899 | 1301 |
| MY PALM OIL | JUN7 | 2794 | -35.00 | 2793 | 2834 | 10562 |
| CHINA PALM OLEIN | SEP7 | 5618 | 36.00 | 5588 | 5670 | 432964 |
| CHINA SOYOIL | SEP7 | 6444 | -66.00 | 6410 | 6498 | 372960 |
| CBOT SOY OIL | MAY7 | 33.4 | -0.12 | 33.35 | 33.55 | 5988 |
| INDIA PALM OIL | MAR7 | 535.30 | +0.10 | 531.60 | 535.6 | 82 |
| INDIA SOYOIL | APR7 | 650.3 | +2.90 | 648 | 650.5 | 1730 |
| NYMEX CRUDE | MAY7 | 48.42 | +0.38 | 48.12 | 48.44 | 18211 |
 Palm oil prices in Malaysian ringgit per tonne
 CBOT soy oil in U.S. cents per pound
 Dalian soy oil and RBD palm olein in Chinese yuan per tonne
 India soy oil in Indian rupee per 10 kg
 Crude in U.S. dollars per barrel
    
(US$1 = 4.4270 ringgit)
(US$1 = 65.4000 Indian rupees)
(US$1 = 6.8876 Chinese yuan)