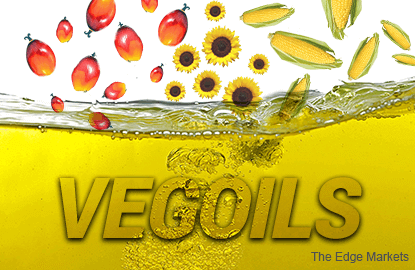 KUALA LUMPUR (March 16): Malaysian palm oil futures rose on Thursday evening, driven by improving exports and lowered production forecasts and despite a strengthening ringgit, which typically weighs on prices.
The ringgit strengthened 0.2% against the dollar on Thursday. A stronger ringgit makes palm oil more expensive for foreign currency holders and usually lowers demand.
Benchmark palm oil futures for June delivery on the Bursa Malaysia Derivatives Exchange were up 2% at RM2,796 (US$630.01) a tonne at the end of the trading day. In the previous session, they recorded their strongest daily rise in four months.
Traded volumes stood at 77,463 lots of 25 tonnes each on Thursday evening.
"The rise in the market is likely driven by production, which we hear is still bad while exports are good, so prices are stable," said a Kuala Lumpur-based trader.
Demand for palm oil from Malaysia, the world's second-largest producer after Indonesia, has picked up recently after a slow start to March, according to cargo surveyor data.
Intertek Testing Services showed a 5.5% decline in shipments for the first half of March from the same period the month before, while Societe Generale de Surveillance showed a 1.1% gain, versus a 25% drop in exports for the first ten days of the month.
Palm oil production is seen recovering during the second half of the year, dragging prices down to around RM2,500, industry experts forecast. However, traders say the recovery may not be as quick as expected due to the lingering effects of a crop-damaging El Nino.
Malaysian output fell 1.4% in February month-on-month, while end-stocks declined 5.3% to 1.46 million tonnes.
Palm oil may rise to RM2,876 per tonne, as it has pierced above a resistance at RM2,815, according to Reuters market analyst for commodities and energy technicals Wang Tao.
In other related vegetable oils, soybean oil on the CBOT climbed as much as 0.9%, while the May soybean oil contract on the Dalian Commodity Exchange fell 0.2%.
The May contract for palm olein on the Dalian Commodity Exchange rose as much as 1.9%.
Palm, soy and crude oil prices at 1108 GMT
| | | | | | | |
| --- | --- | --- | --- | --- | --- | --- |
| Contract          | Month    | Last   | Change     | Low   | High  | Volume |
| MY PALM OIL       | APR7     | 2963   | +21.00    | 2922   | 2981     | 844 |
| MY PALM OIL       | MAY7     | 2859   | +47.00    | 2803   | 2880   | 17050 |
| MY PALM OIL       | JUN7     | 2793   | +55.00    | 2727   | 2807   | 32495 |
| CHINA PALM OLEIN  | MAY7     | 5914  | +112.00    | 5850   | 5926  | 436838 |
| CHINA SOYOIL      | MAY7     | 6340   | -10.00    | 6300   | 6392  | 374026 |
| CBOT SOY OIL      | MAY7     | 32.5    | +0.28   | 32.19  | 32.57   | 10781 |
| INDIA PALM OIL    | MAR7   | 531.50    | +2.90  | 528.20    | 535    | 1681 |
| INDIA SOYOIL      | MAR7      | 656    | +3.15     | 652    | 656    | 1050 |
| NYMEX CRUDE       | APR7    | 49.19    | +0.33   | 49.01  | 49.62   | 85850 |
Palm oil prices in Malaysian ringgit per tonne
CBOT soy oil in US cents per pound
Dalian soy oil and RBD palm olein in Chinese yuan per tonne
India soy oil in Indian rupee per 10 kg
Crude in US dollars per barrel
(US$1 = RM4.4380)
(US$1 = 65.4575 Indian rupees)
(US$1 = 6.9004 Chinese yuan)