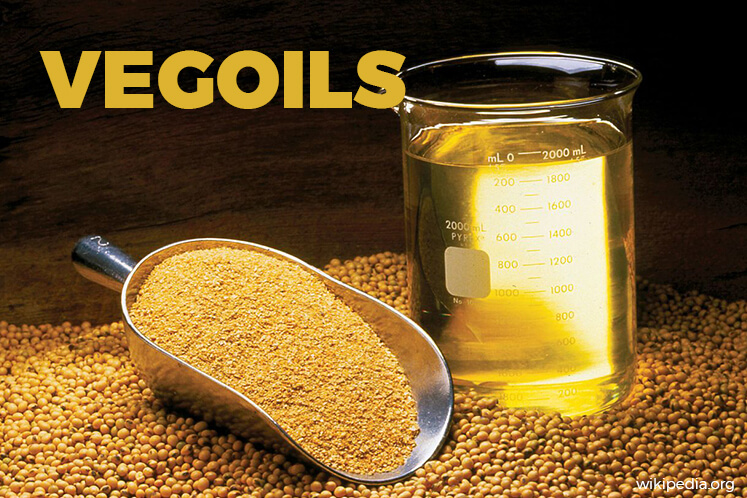 KUALA LUMPUR (March 27): Malaysian palm oil futures fell to their lowest in more than five months in early trade on Monday, in line for a third consecutive session of losses, weighed down by weaker performing related vegetable oils.   
Benchmark palm oil futures for June delivery on the Bursa Malaysia Derivatives Exchange were down 1.7% at 2,708 ringgit (US$614.06) a tonne at the midday break. The
contract earlier fell to an intraday low of 2,692 ringgit, its weakest since Oct 14.
Traded volumes stood at 19,829 lots of 25 tonnes each at noon.
"The market is down on soyoil's drop on Friday, followed by the decline in Dalian today," said a futures trader from Kuala Lumpur, referring to soyoil on the Chicago Board of Trade and China's Dalian Commodity Exchange. 
Palm oil prices often take direction from related vegetable oils, including soyoil, as they compete for a share in the global vegetable oil market.     
Soybean oil on the Chicago Board of Trade was down 0.3%, while the September soybean oil contract on the Dalian Commodity Exchange dropped 2.8%. 
The September contract for palm olein on the Dalian Commodity Exchange dropped as much as 2.4%.
Palm has been range-bound since late-February based on mixed market signals, according to traders, as demand remains weak and output growth is still uncertain. Palm was down 1.7% on a weekly basis last week.
Shipments from Malaysia, the world's second largest producer after Indonesia, dipped during the March 1-25 period, cargo surveyor data showed. Palm oil exports were down 1.2% versus the corresponding period last month, according to Intertek Testing Services.
Palm, soy and crude oil prices at 0452 GMT
| | | | | | | |
| --- | --- | --- | --- | --- | --- | --- |
| Contract | Month | Last | Change | Low | High | Volume |
| MY PALM OIL | APR7 | 2853 | -42.00 | 2840 | 2875 | 44 |
| MY PALM OIL | MAY7 | 2782 | -43.00 | 2767 | 2787 | 1577 |
| MY PALM OIL | JUN7 | 2708 | -46.00 | 2692 | 2715 | 9687 |
| CHINA PALM OLEIN | SEP7 | 5406 | -134.00 | 5388 | 5526 | 421942 |
| CHINA SOYOIL | SEP7 | 6216 | -178.00 | 6202 | 6366 | 410554 |
| CBOT SOY OIL | MAY7 | 32.13 | -0.10 | 32.1 | 32.37 | 4321 |
| INDIA PALM OIL | MAR7 | 530.80 | -2.80 | 529.30 | 531.8 | 104 |
| INDIA SOYOIL | APR7 | 636.5 | -7.40 | 635.2 | 642.5 | 6070 |
| NYMEX CRUDE | MAY7 | 47.83 | -0.14 | 47.75 | 48.28 | 22653 |
 Palm oil prices in Malaysian ringgit per tonne
 CBOT soy oil in U.S. cents per pound
 Dalian soy oil and RBD palm olein in Chinese yuan per tonne
 India soy oil in Indian rupee per 10 kg
 Crude in U.S. dollars per barrel
 
(US$1 = 4.4100 ringgit)
(US$1 = 65.1275 Indian rupees)
(US$1 = 6.8724 Chinese yuan)