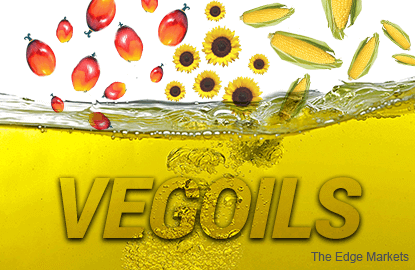 KUALA LUMPUR (March 14): Malaysian palm oil futures extended falls into a fourth session on Tuesday and hit their lowest in nearly five months, tracking weakness in overnight soyoil on the Chicago Board of Trade (CBOT).
Benchmark palm oil futures for May delivery on the Bursa Malaysia Derivatives Exchange were down 0.2% at 2,719 ringgit (US$611.56) a tonne at the midday break. Earlier in the session, they fell to their weakest since Oct 21, 2016 at 2,697 ringgit. 
Traded volumes stood at 24,615 lots of 25 tonnes each at noon.
"Soybean oil (on the CBOT) was weak overnight, and the market lacked support after breaking a new low," said a Kuala Lumpur-based trader, adding that palm also weakened due to a technical decline.
Soyoil prices fell on Monday, tracking soybeans which were weighed down by forecasts of a record production in South America.
Soybean oil on the CBOT fell 1.8% on Monday, before gaining 0.3% on Tuesday. 
Palm oil prices are impacted by the movements of related edible oils, as they compete for a share in the global vegetable oils market. 
Leading vegetable oils analysts expect palm prices would decline to around 2,500 ringgit by mid-year, as the dry weather effects of a crop-damaging El Nino wear off this year.
Palm oil may break a support at 2,712 ringgit per tonne, and fall more towards the next support at 2,673 ringgit, said Wang Tao, a Reuters market analyst for commodities and energy technicals.
In other related vegetable oils, the May soybean oil contract on the Dalian Commodity Exchange fell 1.1%, while the May contract for palm olein on the Dalian Commodity Exchange was slightly down 0.03%.
Palm, soy and crude oil prices at 0503 GMT
| | | | | | | |
| --- | --- | --- | --- | --- | --- | --- |
| Contract | Month | Last | Change | Low | High | Volume |
| MY PALM OIL | MAR7 | 2950 | +0.00 | 2950 | 2950 | 31 |
| MY PALM OIL | APR7 | 2799 | +1.00 | 2780 | 2806 | 907 |
| MY PALM OIL | MAY7 | 2719 | -4.00 | 2697 | 2726 | 10329 |
| CHINA PALM OLEIN | MAY7 | 5780 | -2.00 | 5744 | 5792 | 297220 |
| CHINA SOYOIL | MAY7 | 6364 | -70.00 | 6352 | 6408 | 284076 |
| CBOT SOY OIL | MAY7 | 32.19 | +0.00 | 32.1 | 32.25 | 5626 |
| INDIA PALM OIL | MAR7 | 519.20 | +1.70 | 516.00 | 519.2 | 256 |
| INDIA SOYOIL | MAR7 | 645 | +0.25 | 643.1 | 645 | 260 |
| NYMEX CRUDE | APR7 | 48.43 | +0.03 | 48.26 | 48.47 | 18932 |
Palm oil prices in Malaysian ringgit per tonne
CBOT soy oil in U.S. cents per pound
Dalian soy oil and RBD palm olein in Chinese yuan per tonne
India soy oil in Indian rupee per 10 kg
Crude in U.S. dollars per barrel
(US$1 = 4.4460 ringgit)
(US$1 = 66.2200 Indian rupees)
(US$1 = 6.9171 Chinese yuan)