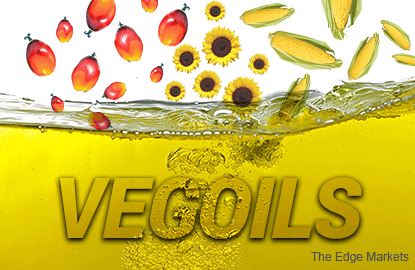 KUALA LUMPUR (Feb 14): Malaysian palm oil futures came off near three-month lows to trade higher on Tuesday evening on concerns about a decline in February production, traders say.
Market signals, however, were mixed earlier in the day as some forecast output gains while exports in February are expected to improve, traders said.
Benchmark palm oil futures for April delivery on the Bursa Malaysia Derivatives Exchange were up 0.4% at RM3,049 (US$685.48) a tonne at the end of the trading day. Earlier in the session, they hit RM3,011, their lowest levels since Nov 25, 2016.
Traded volumes stood at 61,882 lots of 25 tonnes each on Tuesday evening.
A Kuala Lumpur-based trader said physical prices were still very strong, indicating that market supplies are still tight due to lower production levels.
Another trader added the market was supported by expectations of bullish export data from cargo surveyors for the first half of February due for release on Wednesday.
"That coupled with technical buying since palm prices rebounded off lows" had aided the market, said the trader.
Palm oil shipments in the first 10 days of February slipped up to 3% from the corresponding period in January, showed cargo surveyor data, as demand for the tropical oil waned after the Lunar New Year celebrations.
During the Lunar New Year celebrations, there is more demand for the tropical oil from top consumer China.   
Output levels are still seeing the impact of the crop-damaging El Nino, but its effects are seen tapering off towards a bigger recovery by the second half of this year.     
Production for January declined 13.4% to 1.28 million tonnes, its sharpest drop in a year, according to data from the Malaysian Palm Oil Board on Friday.
Palm oil may stabilise around a support at RM3,014 per tonne, and then rise towards a resistance at RM3,089, showed analysis by Wang Tao, a Reuters market analyst for commodities and energy technicals.
In other related edible oils, the March soybean oil contract on the Chicago Board of Trade rose 0.3%, while the May soybean oil contract on the Dalian Commodity Exchange fell 1.4%.
The May contract for Dalian palm olein dropped as much as 2.2%.
Palm, soy and crude oil prices at 1049 GMT
| | | | | | | |
| --- | --- | --- | --- | --- | --- | --- |
| Contract          | Month    | Last   | Change     | Low   | High  | Volume |
| MY PALM OIL       | FEB7     | 3289   | +32.00    | 3259   | 3289     | 163 |
| MY PALM OIL       | MAR7     | 3161   | +28.00    | 3115   | 3163    | 1561 |
| MY PALM OIL       | APR7     | 3050   | +13.00    | 3011   | 3058   | 24833 |
| CHINA PALM OLEIN  | MAY7     | 6088  | -136.00    | 6082   | 6184  | 644586 |
| CHINA SOYOIL      | MAY7     | 6828  | -100.00    | 6822   | 6910  | 360880 |
| CBOT SOY OIL      | MAR7    | 34.27    | +0.10    | 34.1  | 34.32    | 6506 |
| INDIA PALM OIL    | FEB7   | 568.10    | -2.90  | 563.30  | 572.4    | 1479 |
| INDIA SOYOIL     | FEB7    | 691.7    | -5.25     | 690  | 696.9    | 8700 |
| NYMEX CRUDE       | MAR7    | 53.35    | +0.42   | 52.86  | 53.44   | 70511 |
Palm oil prices in Malaysian ringgit per tonne
CBOT soy oil in US cents per pound
Dalian soy oil and RBD palm olein in Chinese yuan per tonne
India soy oil in Indian rupee per 10 kg
Crude in US dollars per barrel
(US$1 = RM4.4480)
(US$1 = 66.9400 Indian rupees)
(US$1 = 6.8625 Chinese yuan)