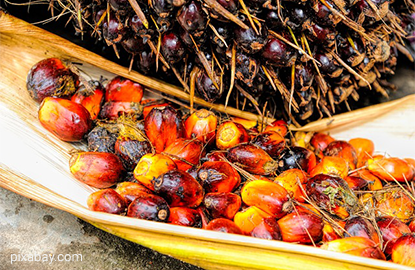 JAKARTA (Jan 31): Malaysian palm oil futures on Tuesday hit their lowest in five weeks, and were headed for a fourth session of declines, as they tracked a subdued soybean market after the Lunar New Year holidays.
Benchmark palm oil futures for April delivery on the Bursa Malaysia Derivatives Exchange closed 1.3% lower at 3,033 ringgit (US$684.96) a tonne. Earlier in the session, they touched 3,015 ringgit, their lowest since Dec 23, 2016. 
The benchmark lost 2.6% in January.
The market, which was closed since mid-day Friday for Lunar New Year celebrations, resumed trading on Tuesday. 
Traded volumes stood at 44,006 lots of 25 tonnes each at Tuesday's close.
"Soy harvest in the Americas look like it will surpass target. As substitutes, soy immediately impacted CPO prices," Gregorious Gary, an analyst with Bahana Securities in Jakarta.
The Chicago Board of Trade most-active soybean contract traded near its lowest in two weeks on Tuesday, after dropping 2.5% in the previous session.
In Indonesia, the world's top palm oil producer, the Indonesian Palm Oil Association (GAPKI) said it expects 35.5 million tonnes of palm oil output, up from 31.5 million last year.
There is no trading in China, with the Dalian Commodity Exchange closed for the Lunar New Year celebration until Feb 2.
Palm, soy and crude oil prices at 1034 GMT
| | | | | | | |
| --- | --- | --- | --- | --- | --- | --- |
| Contract | Month | Last | Change | Low | High | Volume |
| MY PALM OIL | Feb-17 | 3230 | -13 | 3205 | 3235 | 415 |
| MY PALM OIL | Mar-17 | 3107 | -28 | 3080 | 3110 | 4644 |
| MY PALM OIL | Apr-17 | 3033 | -37 | 3014 | 3037 | 20335 |
| CHINA PALM OLEIN | May-17 | 0 | 0 | 0 | 0 | 0 |
| CHINA SOYOIL | May-17 | 0 | 0 | 0 | 0 | 0 |
| CBOT SOY OIL | Mar-17 | 33.75 | 0.6 | 33.55 | 33.79 | 5272 |
| INDIA PALM OIL | Jan-17 | 587.7 | 0.6 | 586.1 | 589.1 | 831 |
| INDIA SOYOIL | Feb-17 | 696.7 | 3.5 | 691 | 698 | 15000 |
| NYMEX CRUDE | Mar-17 | 52.46 | -0.17 | 52.24 | 52.7 | 95901 |
Palm oil prices in Malaysian ringgit per tonne
 CBOT soy oil in U.S. cents per pound
 Dalian soy oil and RBD palm olein in Chinese yuan per tonne
 India soy oil in Indian rupee per 10 kg
 Crude in U.S. dollars per barrel
 
(US$1 = 4.4280 ringgit)
(US$1 = 6.8768 Chinese yuan)
(US$1 = 67.8199 Indian rupees)