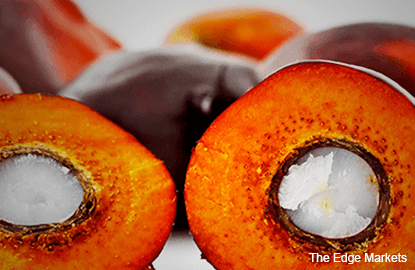 KUALA LUMPUR (Feb 17): Malaysian palm oil futures dropped to their lowest in three months on Friday, based on expectations of rising production levels and slow export demand.
Benchmark palm oil futures for May delivery on the Bursa Malaysia Derivatives Exchange were down 1.3% at RM2,892 (US$649.01) a tonne at the midday break. Earlier in the session, they hit RM2,883, their sharpest fall since Nov 18, 2016.
Traded volumes stood at 31,896 lots of 25 tonnes each at noon.
"Fundamentally production is inching up but exports are uncertain," said a Kuala Lumpur-based futures trader.
"The trading band in the short term should be RM2,800–RM3,000," he said, however, adding that it is too early to determine whether this is the start of a price-declining phase.
In the recent weeks, palm oil prices have reached their highest in more than four years as market supplies are tight on low production levels.
Palm's fresh fruit yields are still suffering the effects of a crop-damaging El Nino, but is expected to recover by the second-half of the year and weighing on benchmark prices, according to leading industry analysts.
A rise in export demand could support prices, but demand in the first-half of February declined from the corresponding period last month, showed cargo surveyor data.
Societe Generale de Surveillance shipment data showed a 3.6% fall in exports, while Intertek Testing Services saw a 1.4% rise.
Palm oil is expected to seek a support at RM2,879 per tonne, and then either hover above this level or bounce towards a resistance at RM2,959, said Wang Tao, a Reuters market analyst for commodities and energy technicals.
In competing vegetable oils, the May soybean oil contract on the Chicago Board of Trade slipped as much as 0.7%, while the May soybean oil contract on the Dalian Commodity Exchange lost up to 1.6%.
The May contract for Dalian palm olein fell as much as 2.7%.
Palm, soy and crude oil prices at 0530 GMT
| | | | | | | |
| --- | --- | --- | --- | --- | --- | --- |
| Contract          | Month    | Last   | Change     | Low   | High  | Volume |
| MY PALM OIL       | MAR7     | 3132   | -19.00    | 3118   | 3150     | 652 |
| MY PALM OIL       | APR7     | 2982   | -42.00    | 2975   | 3000    | 6654 |
| MY PALM OIL       | MAY7     | 2892   | -37.00    | 2883   | 2908   | 12955 |
| CHINA PALM OLEIN  | MAY7     | 5946  | -166.00    | 5934   | 6054  | 538906 |
| CHINA SOYOIL      | MAY7     | 6726  | -110.00    | 6706   | 6826  | 411578 |
| CBOT SOY OIL      | MAR7     | 33.3    | -0.22   | 33.25  | 33.65   | 10091 |
| INDIA PALM OIL    | FEB7   | 558.80    | -3.50  | 557.00    | 559     | 265 |
| INDIA SOYOIL      | FEB7    | 678.1    | -2.40   | 677.2  | 679.4      | 80 |
| NYMEX CRUDE       | MAR7    | 53.43    | +0.07   | 53.37  | 53.50    | 4984 |
Palm oil prices in Malaysian ringgit per tonne
CBOT soy oil in US cents per pound
Dalian soy oil and RBD palm olein in Chinese yuan per tonne
India soy oil in Indian rupee per 10 kg
Crude in US dollars per barrel
(US$1 = RM4.4560)
(US$1 = 67.0650 Indian rupees)
(US$1 = 6.8662 Chinese yuan)