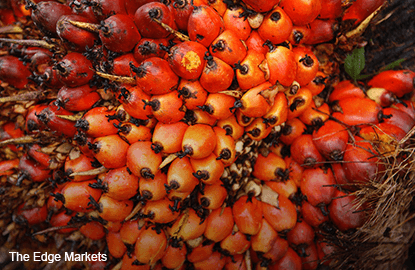 KUALA LUMPUR (Feb 6): Malaysian palm oil futures edged up on Monday, reversing most of last week's losses, with traders expecting data due this week to show a rise in export demand amid poor production.
Benchmark palm oil futures for April delivery on the Bursa Malaysia Derivatives Exchange were up 0.43% at RM3,068 (US$693.33) per tonne at the mid-day break. Traded volumes stood at 40,893 lots of 25 tonnes each.
A Kuala Lumpur-based trader said palm was inching up towards RM3,100 in anticipation of positive data for Feb 1–Feb 10, but was expected to remain within its broader recent range.
"There are some incoming reports this week on production and exports that would be supportive to the market. Dalian has not dropped a lot either," the trader added.    
"The Market is short-term bullish and long-term bearish on palm. (The short-term view is positive as) production has fallen, and with India's monetisation issues being resolved, the market is expecting the country to start importing more palm," he added.
Another trader said the market was waiting for new stimulus to trade on, referring to the impending stocks figures from the Malaysian Palm Oil Board (MPOB).
"For the most part of January, palm has been trading between RM3,000 and RM3,200. The market is just waiting for fresh input to push it either beyond or below this range," he said.
The Southern Peninsula Palm Oil Millers' Association (SPPOMA) released data last week showing a drop of 21.8% in production for January, lifting prices then.
However, palm output is expected to increase from March onwards, which will drag down prices, analysts said at an event in India last Friday.
Leading industry analyst Dorab Mistry said palm oil prices could fall to RM2,500 per tonne in June or July in a "knee-jerk reaction at the first signal of rising production, possibly in early or mid-March."
Analyst James Fry's forecast for palm prices echoed Mistry's thoughts as well.
On the Chicago Board Of Trade, the March soybean oil contract gained 0.8%.
The May contract for Dalian soybean oil slipped 0.29%, while the palm olein contract slid 0.49%.
Palm, soy and crude oil prices at 1005 GMT
| | | | | | | |
| --- | --- | --- | --- | --- | --- | --- |
| Contract                     | Month      | Last    | Change         | Low       | High       | Volume |
| MY PALM OIL   | FEB7          | 3257     | +7.00        | 3229       | 3265          | 187 |
| MY PALM OIL         | MAR7          | 3152    | +12.00        | 3120       | 3152         | 2105 |
| MY PALM OIL     | APR7          | 3070    | +15.00        | 3032       | 3070        | 17787 |
| CHINA PALM OLEIN  | MAY7          | 6140    | -30.00        | 6118       | 6170       | 354758 |
| CHINA SOYOIL         | MAY7          | 6864    | -20.00        | 6842       | 6910       | 343954 |
| CBOT SOY OIL    | MAR7         | 34.11     | +1.30       | 33.91       | 34.2         | 7456 |
| INDIA PALM OIL     | FEB7        | 578.00     | +1.30      | 576.70      | 579.6          | 506 |
| INDIA SOYOIL      | FEB7         | 701.7     | +1.25         | 701     | 717.85         | 4510 |
| NYMEX CRUDE         | MAR7         | 53.83     | +0.00       | 53.79      | 54.13        | 45301 |
(US$1 = RM4.4250)
(US$1 = 67.18 Indian rupees)
(US$1 = 6.8598 Chinese yuan)