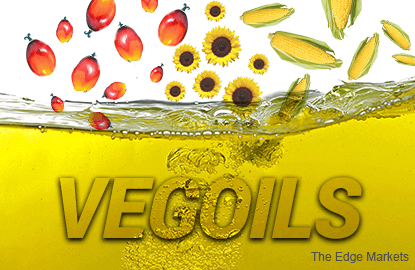 KUALA LUMPUR (Jan 19): Malaysian palm oil futures were in line for a second straight session of declines on Thursday tracking weaker-performing U.S. soyoil, however, traders expect market to trade range-bound awaiting new leads.
Benchmark palm oil futures for April delivery on the Bursa Malaysia Derivatives Exchange were down 0.2% at 3,145 ringgit (US$707) a tonne by the midday break. 
Traded volumes stood at 17,839 lots of 25 tonnes each at noon.
"This morning, soyoil was marginally lower," said a futures trader from Kuala Lumpur, referring to palm's rival oilseed on the Chicago Board of Trade. 
"Palm is range-trading... awaiting new production figures."
Palm prices often track the movements of related edible oils, as they compete for a share in the global vegetable oils market.
The March soybean oil contract on the CBOT is slightly up by 0.1%.
Despite the market decline in early trade on Thursday, palm is still hovering near a more-than-four-year high on tight market supplies, as production levels are still reeling from the effects of the crop-damaging El Nino. 
Traders and analysts expect output to remain slow until the second or even the third quarter of the year. 
Malaysian output for the year, however, is seen rising 12% to 19.4 million tonnes from 2016, as the trees recover from the dry weather effects, according to the Malaysian Palm Oil Board. 
In other related edible oils, the May soybean oil contract on the Dalian Commodity Exchange climbed 0.2%, while the May contract for Dalian palm olein declined 0.03%.
Palm, soy and crude oil prices at 0511 GMT
| | | | | | | |
| --- | --- | --- | --- | --- | --- | --- |
| Contract | Month | Last | Change | Low | High | Volume |
| MY PALM OIL | FEB7 | 3238 | -5.00 | 3233 | 3254 | 184 |
| MY PALM OIL | MAR7 | 3176 | -7.00 | 3170 | 3203 | 3586 |
| MY PALM OIL | APR7 | 3145 | -5.00 | 3136 | 3171 | 9475 |
| CHINA PALM OLEIN | MAY7 | 6314 | -2.00 | 6268 | 6348 | 335224 |
| CHINA SOYOIL | MAY7 | 7022 | +16.00 | 6992 | 7070 | 276604 |
| CBOT SOY OIL | MAR7 | 35.6 | +0.02 | 35.44 | 35.7 | 3135 |
| INDIA PALM OIL | JAN7 | 594.40 | -0.90 | 594.00 | 595 | 36 |
| INDIA SOYOIL | JAN7 | 0 | +0.00 | 0 | 0 | 0 |
| NYMEX CRUDE | FEB7 | 51.48 | +0.40 | 51.36 | 51.60 | 1657 |
 Palm oil prices in Malaysian ringgit per tonne
 CBOT soy oil in U.S. cents per pound
 Dalian soy oil and RBD palm olein in Chinese yuan per tonne
 India soy oil in Indian rupee per 10 kg
 Crude in U.S. dollars per barrel
 
(US$1 = 4.4495 ringgit)
(US$1 = 68.1825 Indian rupees)
(US$1 = 6.8584 Chinese yuan)