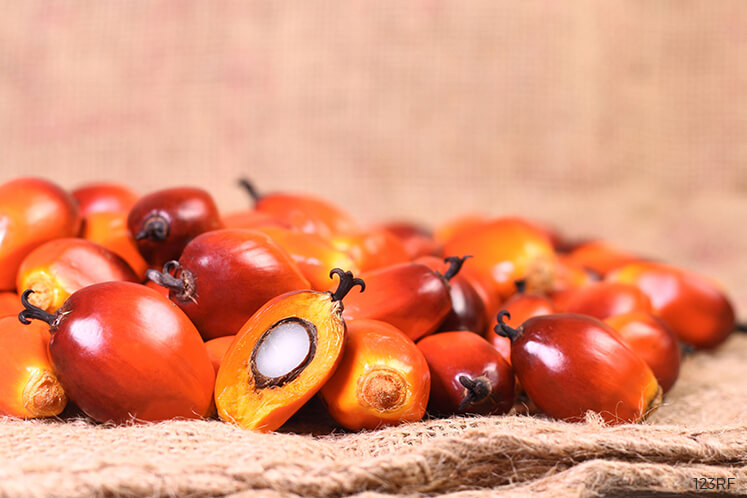 KUALA LUMPUR (March 20): Malaysian palm oil futures on Monday slipped to a second session of declines in three on weaker export data, while March output is expected to improve from a month ago.
Benchmark palm oil futures for June delivery on the Bursa Malaysia Derivatives Exchange were down 0.8% at RM2,780 (US$628.25) a tonne in the evening.
Traded volumes stood at 51,323 lots of 25 tonnes each at the end of the trading day.
"The market is looking at lower demand, while supply is to see a marginal increase," said a futures trader from Kuala Lumpur.
Export data for Malaysian palm oil shipments saw a decline between March 1 and March 20, about 3% down from a month ago, according to cargo surveyor Intertek Testing Services.
Another cargo surveyor, Societe Generale de Surveillance, showed a 7.9% decline in shipments during the same time period.
Low demand and rising production could weigh down palm oil prices. Palm oil output is expected to recover from the second quarter onwards, as the effects of a crop-damaging El Nino fades away, and this might pull down prices to around RM2,500, say industry experts.
Malaysian output last fell 1.4% in February on-month, while end-stocks declined 5.3% to 1.46 million tonnes.
Palm oil looks neutral in a range of RM2,767 to RM2,810 per tonne, and an escape could signal a direction, said Wang Tao, a Reuters market analyst for commodities and energy technicals.
In other related vegetable oils, soybean oil on the Chicago Board of Trade climbed as much as 0.7%, while the September soybean oil contract on the Dalian Commodity Exchange rose up to 0.9%.
The September contract for palm olein on the Dalian Commodity Exchange gained 0.5%.
Palm, soy and crude oil prices at 1038 GMT
| | | | | | | |
| --- | --- | --- | --- | --- | --- | --- |
| Contract          | Month    | Last   | Change     | Low   | High  | Volume |
| MY PALM OIL       | APR7     | 2938   | -27.00    | 2933   | 2969     | 574 |
| MY PALM OIL       | MAY7     | 2840   | -30.00    | 2838   | 2879    | 5991 |
| MY PALM OIL       | JUN7     | 2778   | -23.00    | 2772   | 2812   | 27627 |
| CHINA PALM OLEIN  | SEP7     | 5642   | +28.00    | 5588   | 5650  | 420608 |
| CHINA SOYOIL      | SEP7     | 6536   | +56.00    | 6480   | 6540  | 351656 |
| CBOT SOY OIL      | MAY7    | 32.51    | +0.21   | 32.41  | 32.59    | 6928 |
| INDIA PALM OIL    | MAR7   | 531.30    | -1.40  | 530.00  | 534.6     | 910 |
| INDIA SOYOIL      | MAR7   | 658.35    | +0.90  | 657.75  | 658.6     | 900 |
| NYMEX CRUDE       | APR7    | 48.07    | -0.71   | 47.97  | 48.74   | 15478 |
Palm oil prices in Malaysian ringgit per tonne
CBOT soy oil in US cents per pound
Dalian soy oil and RBD palm olein in Chinese yuan per tonne
India soy oil in Indian rupee per 10 kg
Crude in US dollars per barrel
(US$1 = RM4.4250)
(US$1 = 65.3850 Indian rupees)
(US$1 = 6.9053 Chinese yuan)