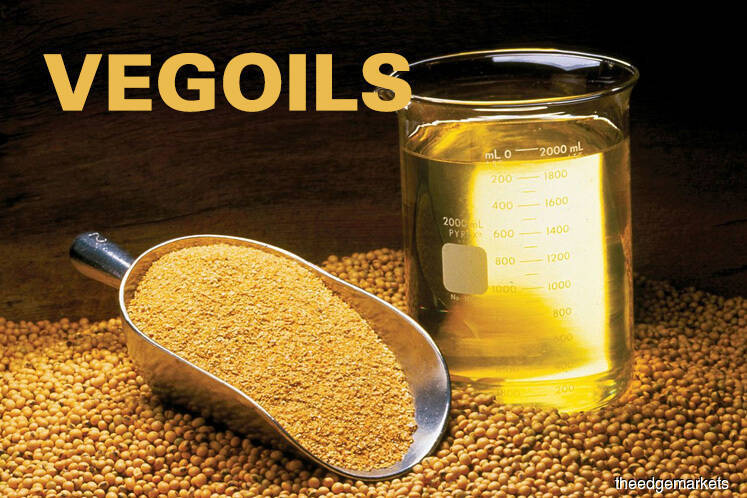 KUALA LUMPUR (April 10): Malaysian palm oil futures fell more than 2% to a one-week low in evening trade on Wednesday, as an official data release from the Malaysian Palm Oil Board (MPOB) showed March end-stocks and output were higher than forecast.
The data, released during the midday break, showed that March end-stocks were down 4.6% from February at 2.92 million tonnes, while output rose 8.3% to 1.67 million tonnes.
Meanwhile, exports surged by 22.4% from February to 1.62 million tonnes.
The benchmark palm oil contract for June delivery on the Bursa Malaysia Derivatives Exchange was down 1.9% at 2,170 ringgit (US$528.62) a tonne at midday.
It earlier fell as much as 2.6% to 2,155 ringgit, the lowest level since April 2.
"The official data is bearish as production was expected to be lower," said one Kuala Lumpur-based trader, adding this also contributed to higher than expected inventories. 
A second trader said the market fell in the afternoon, as the MPOB data showed a higher production trend.
In related oils, the Chicago May soybean oil contract was down 0.7% and the May soyoil contract on the Dalian Commodity Exchange rose 0.2%. 
The Dalian May palm oil contract, meanwhile, slipped by 0.4%.
Palm oil prices are affected by movements in soyoil, with which it competes in the global vegetable oil market. 
        
 Palm, soy and crude oil prices at 1044 GMT
| | | | | | | |
| --- | --- | --- | --- | --- | --- | --- |
| Contract | Month | Last | Change | Low | High | Volume |
| MY PALM OIL | APR9 | 2100 | -64.00 | 2090 | 2120 | 47 |
| MY PALM OIL | MAY9 | 2132 | -64.00 | 2120 | 2200 | 2830 |
| MY PALM OIL | JUN9 | 2170 | -42.00 | 2155 | 2219 | 24835 |
| CHINA PALM OLEIN | MAY9 | 4466 | -16.00 | 4454 | 4520 | 282838 |
| CHINA SOYOIL | MAY9 | 5450 | +8.00 | 5442 | 5472 | 94088 |
| CBOT SOY OIL | MAY9 | 28.85 | -0.19 | 28.81 | 29.07 | 5844 |
| INDIA PALM OIL | APR9 | 536.30 | -3.60 | 532.00 | 542.8 | 1055 |
| INDIA SOYOIL | APR9 | 743.15 | -3.30 | 742 | 748.2 | 4770 |
| NYMEX CRUDE | MAY9 | 64.39 | +0.41 | 64.05 | 64.54 | 102340 |
 Palm oil prices in Malaysian ringgit per tonne
 CBOT soy oil in U.S. cents per pound
 Dalian soy oil and RBD palm olein in Chinese yuan per tonne
 India soy oil in Indian rupee per 10 kg
 Crude in U.S. dollars per barrel
 
(US$1 = 4.1050 ringgit)
(US$1 = 6.7171 Chinese yuan)
(US$1 = 69.2900 Indian rupees)