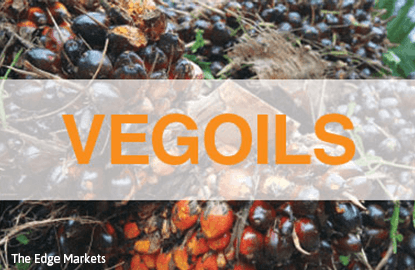 KUALA LUMPUR (Feb 24): Malaysian palm oil futures fell for a fifth consecutive session on Wednesday, dragged down by surprise signs of improved output and weak export demand.
The palm oil contract for May delivery on the Bursa Malaysia Derivatives Exchange fell 1.2% to RM2,520 (US$597.86) per tonne at the end of the trading day. It earlier hit an intraday low of RM2,517, the lowest in three weeks.
Traded volume stood at 49,485 lots of 25 tonnes each.
"The downside was triggered by production improvement and poor exports, coupled with weaker overseas market," said a trader based in Kuala Lumpur.
"The ringgit weakness had added support, but the anticipation of lower exports capped the upside."
Data from the Southern Palm Oil Millers' Association on Tuesday showed an unexpected 2.6% rise in output between Feb 1 and Feb 20 compared with the same period in January.
Although production growth of the tropical oil is seen declining this year due to an El Nino event, which brings crop damaging dry weather across Southeast Asia, recent rainfalls could lessen its impact.
Export demand for the tropical oil has been slowing in February due to lower consumption from top consumers China and India, with cargo surveyor data showing falling palm oil shipments by 10%–12% for the first 20 days of the month compared with the same time period in January.
Palm oil shipment data for Feb 1–25 is due to be released on Thursday, in which traders expect to see further declines in demand.
Palm oil is still targeting RM2,506 per tonne, as suggested by a rising channel and a Fibonacci projection analysis, according to Reuters market analyst for commodities and energy technicals Wang Tao.
In competing vegetable oil markets, the May soybean oil contract on the Dalian Commodity Exchange fell 1.2%, while the Chicago soyoil contract fell 0.2%.
Palm, soy and crude oil prices at 1014 GMT
| | | | | | | |
| --- | --- | --- | --- | --- | --- | --- |
| Contract        | Month    | Last   | Change     | Low    | High  | Volume |
| MY PALM OIL      | MAR6    | 2461   | -22.00    | 2455    | 2485    | 1271 |
| MY PALM OIL      | APR6    | 2503   | -28.00    | 2498    | 2525    | 4943 |
| MY PALM OIL      | MAY6    | 2520   | -31.00    | 2517    | 2547   | 26517 |
| CHINA PALM OLEIN | MAY6    | 4902  | -110.00    | 4884    | 5022 | 1130490 |
| CHINA SOYOIL     | MAY6    | 5670   | -70.00    | 5658    | 5766  | 517310 |
| CBOT SOY OIL     | MAR6   | 30.70    | -4.10   | 30.65   | 30.86    | 2795 |
| INDIA PALM OIL   | FEB6  | 477.50    | -4.10  | 477.20  | 481.00    | 1164 |
| INDIA SOYOIL     | MAR6  | 616.50    | -3.80  | 615.30  | 618.80   | 32520 |
| NYMEX CRUDE      | APR6   | 30.89    | -0.98   | 30.82   | 31.53   | 70298 |
Palm oil prices in Malaysian ringgit per tonne
CBOT soy oil in US cents per pound
Dalian soy oil and RBD palm olein in Chinese yuan per tonne
India soy oil in Indian rupee per 10 kg
Crude in US dollars per barrel
(US$1 = RM4.2150)
(US$1 = 68.5375 Indian rupees)
(US$1 = 6.5350 Chinese yuan)