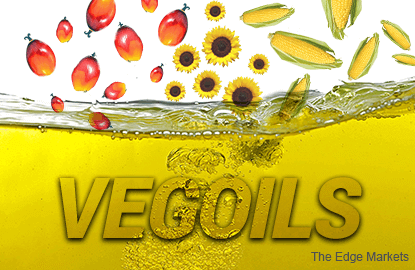 KUALA LUMPUR (March 17): Malaysian palm oil futures were down on Friday morning, hurt by weaker demand as its spread with rival oilseed soy narrowed, rendering the tropical oil less competitive.
Benchmark palm oil futures for June delivery on the Bursa Malaysia Derivatives Exchange were down 0.3% at 2,786 ringgit a tonne at the midday break.
Traded volumes stood at 7,291 lots of 25 tonnes each on Friday noon. Palm is up 0.9% for the week.
"The market opened lower due to the narrower spread between soybean oil and palm oil," said a futures trader from Kuala Lumpur, adding that this made soyoil more attractive for buyers, as it usually trades at a premium to palm oil.
Palm oil prices are impacted by related edible oils including soy, as they compete for a share in the global vegetable oils market.
Palm oil shipments from Malaysia, the world's second-largest producer after Indonesia, showed a 5.5% decline in shipments for the first half of March from the same period the month before, according to Intertek Testing Services.
Another cargo surveyor, Societe Generale de Surveillance, however showed a 1.1% gain.
Palm oil may retrace moderately to a support at 2,754 ringgit per tonne, before retesting a resistance at 2,815 ringgit, according to Reuters market analyst for commodities and energy technicals, Wang Tao.
In other related vegetable oils, soybean oil on the CBOT was up 0.4%, while the May soybean oil contract on the Dalian Commodity Exchange rose 0.8%.
The May contract for palm olein on the Dalian Commodity Exchange gained 0.4%.