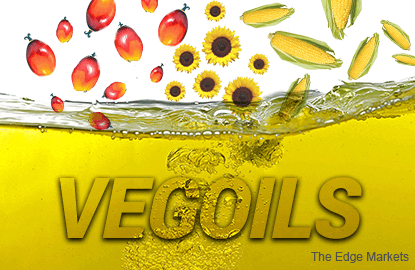 KUALA LUMPUR (Jan 18): Malaysian palm oil futures fell on Wednesday evening on a strengthening ringgit and forecasts of higher production.
The ringgit, in which palm is traded, gained 0.4% against the US dollar to 4.4430, its highest in more than a month.
A stronger ringgit makes palm oil more expensive for holders of foreign currencies.
Benchmark palm oil futures for April delivery on the Bursa Malaysia Derivatives Exchange had declined 0.3% to RM3,150 (US$709) a tonne by the end of the trading day.
Traded volumes stood at 44,012 lots of 25 tonnes each on Wednesday evening.
The market is down primarily due to the stronger ringgit, and also on production that had been picking up slightly, said a trader from Kuala Lumpur.
"Production will start picking up from February-March. We expect it to rise after the Chinese New Year in a better way, and then we'll see a fall in prices," he said.
The Lunar New Year celebrations in China begin on Jan 28.
Supplies have declined in recent months on low output due to the effects of a crop-damaging El Nino weather phenomenon.
Production in Malaysia, the world's second largest producer after Indonesia, fell 6.4% in December from the previous month to a seven-month low.
Industry players, however, forecast a rebound in the second and the third quarter of 2017, as the lingering drought effects of El Nino wear off and crops recover.
Palm oil output is seen rising by 12% this year to 19.4 million tonnes from 17.4 million tonnes in 2016, the Malaysian Palm Oil Board (MPOB) said at a conference in Kuala Lumpur on Tuesday.  
Palm oil may test resistance at RM3,169 as it has climbed above a wedge chart pattern, analysis by Reuters market analyst for commodities and energy technicals Wang Tao showed.
The March soybean oil contract on the CBOT rose 0.4%, while the May soybean oil contract on the Dalian Commodity Exchange was up 0.1%.
In other related edible oils, the May contract for Dalian palm olein declined 0.1%.
Palm, soy and crude oil prices at 1049 GMT
| | | | | | | |
| --- | --- | --- | --- | --- | --- | --- |
| Contract          | Month    | Last  | Change     | Low   | High   | Volume |
| MY PALM OIL       | FEB7     | 3247  | -12.00    | 3230   | 3268      | 880 |
| MY PALM OIL       | MAR7     | 3188  | -13.00    | 3173   | 3210     | 6454 |
| MY PALM OIL       | APR7     | 3152   | -9.00    | 3141   | 3175    | 20693 |
| CHINA PALM OLEIN  | MAY7     | 6312   | -8.00    | 6284   | 6356   | 451366 |
| CHINA SOYOIL      | MAY7     | 7020   | +6.00    | 6974   | 7052   | 374022 |
| CBOT SOY OIL      | MAR7     | 35.7   | +0.14   | 35.52  | 35.91     | 7991 |
| INDIA PALM OIL    | JAN7   | 595.00   | +0.20  | 593.60  | 597.3      | 767 |
| INDIA SOYOIL      | JAN7    | 733.6   | -0.85   | 732.8  | 734.3     | 1380 |
| NYMEX CRUDE       | FEB7    | 51.69   | -0.79   | 51.55  | 52.79    | 32711 |
Palm oil prices in Malaysian ringgit per tonne
CBOT soy oil in US cents per pound
Dalian soy oil and RBD palm olein in Chinese yuan per tonne
India soy oil in Indian rupee per 10 kg
Crude in US dollars per barrel
(US$1 = RM4.4430)
(US$1 = 68.0429 Indian rupees)
(US$1 = 6.8360 Chinese yuan)