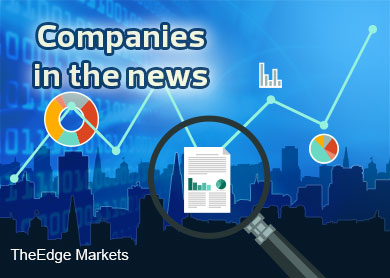 KUALA LUMPUR (Nov 7): Based on corporate announcements and newsflow today, the companies that may be in focus next Monday (Nov 10) could include palm oil counters, Sunway Bhd, ML Global Bhd, Supermax Corp Bhd, Perwaja Holdings Bhd and Kinsteel Bhd.
Stocks that have exposure to palm oil such as Sime Darby Bhd, United Plantation Bhd, PPB Oil Palm Bhd and Kuala Lumpur Kepong Bhd may garner interest as the Malaysian Palm Oil Board is set to release the official figures on Malaysian palm oil inventory on Monday (Nov 10).
Surveys by Bloomberg and Reuters indicated that inventories level could increase to 2.14 million tonnes and 2.16 million tonnes respectively, the highest since March 2013.
Three-month (January 2015) crude palm oil benchmark futures today settled at RM2,195 per tonne, fell RM27 or 1.2% from RM2,222 per ton yesterday, with 31,319 contracts transacted.
More visibility available upon the initial public offering of Sunway Bhd's construction business as the property developer is believed to have hired additional three banks to work on the corporate exercise, which could raise up to US$200 million (RM669 million).
The other three banks that would joint force with RHB Investment Bank Bhd, could be HSBC, Maybank, and Standard Chartered.
Sunway Bhd closed unchanged at RM3.19 today, with 1.5 million shares changing hands and giving it a market capitalisation of RM5.5 billion.
ML Global Bhd's subsidiary, Vintage Tiles Industries Sdn Bhd, has secured a commercial real estate construction contract worth RM35.9 million from property developer LBS Bina Group Bhd. LBS owns 20.45% in ML Global.
In a filing with Bursa Malaysia today, ML Global said it would undertake building and infrastructure works for LBS' shop office project in Kuantan, Pahang.
ML Global said the contract is expected to have positive contribution to the earnings per share, net assets per share and gearing of the group.
The roof tiles manufacturer dipped 2.5 sen or 5.4% to settle at 43.5 sen today, with 576,000 shares traded, giving it a market capitalisation of RM38.99 million.
Supermax Corp Bhd reported a 22.33% decline in net profit to RM27.8 million for the third financial quarter ended Sept 30, 2014 (3QFY14) from RM35.8 million a year ago, due to foreign exchange losses totalling RM5.9 million.
Revenue also fell 2.2% to RM278.38 million from RM284.56 million in 3QFY13, mainly due to lower sales volume.
For the nine months period, the rubber glove maker posted a net profit of RM81.17 million, 21.71% lower than RM103.69 million a year ago. Revenue for 9MFY14 fell 20% year-on-year to RM748.75 million from RM935.1 million.
Supermax share price remain unchanged at RM2.33 today, giving it a market capitalisation of RM1.58 billion.
Perwaja Holdings Bhd, which is 37% owned by Kinsteel Bhd, said its audited net loss for the 18 months ended June 30, 2014 (FY14) stood at RM1.217 billion — a 32% variation or RM295.85 million, compared with the unaudited amount of RM921.6 million.
The wider losses were attributed to impairment of plant and machinery (RM233.57 million), impairment of receivables (RM58.94 million), and other adjustments (RM3.35 million).
"As advised by the external auditors and based on the valuation done by an independent valuer, the company has made the impairment of plant and machinery to reflect its current conditions," Perwaja said in filing with Bursa Malaysia today.
Perwaja shares inched up half sen or 6.25% to close at 8.5 sen today, giving it a market capitalisation of RM47.6 million.
Kinsteel's audited results for FY14 also showed a 30% variation from what was presented in the unaudited version.
Its audited net loss stood at RM546.81 million, a variance of RM125.32 million from its unaudited number of RM421.49 million reported in late August.
Kinsteel said the variance was driven by impairment on inventories, plant and machineries in subsidiary (RM15.1 million and RM87.21 million respectively), and overstatement of inventories (RM23 million).
Kinsteel shares were up one sen or 6% to 17.5 sen today, giving it a market capitalisation of RM182.28 million.
Kinsteel and Perwaja had both failed to submit their annual audited accounts to the stock exchange for public release,