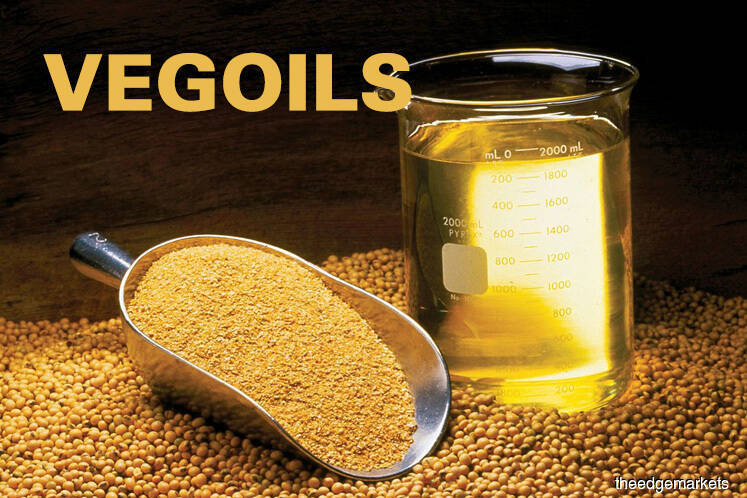 KUALA LUMPUR (Feb 13): Malaysian palm oil futures rose on Wednesday, in line to snap three sessions of declines, supported by strength in crude oil prices.
The benchmark palm oil contract for April delivery on the Bursa Malaysia Derivatives Exchange rose 0.6% to RM2,267 (US$557.96) a tonne at the midday break.
Palm had risen to a seven-month high last week before falling to a three-week low in its previous session.
Trading volumes stood at 7,477 lots of 25 tonnes each at noon.
"The market is up due to a rise in crude oil prices last night," said a Kuala Lumpur-based trader, adding that palm's longer-term outlook was also supportive of the market.
"Production should drop at least 15% in February and while exports will also fall, the decline won't be that sharp."
Output of palm oil, the world's most widely used edible oil, typically declines during the first quarter of the year in line with seasonal trend.
Exports of Malaysian palm oil products during Feb 1-10 fell 11.2-15.8% from Jan 1-10, according to cargo surveyors AmSpec Agri Malaysia, Intertek Testing Services and Societe Generale de Surveillance.    
In other related oils, the Chicago March soybean oil contract edged up 0.1%, while the May contract on the Dalian Commodity Exchange fell 0.1%.
The Dalian January palm oil contract was up 0.2%.
Palm oil prices are affected by movements in soyoil rates, as they compete for a share in the global vegetable oil market.
Palm oil may bounce towards RM2,285 per tonne, as it has found a support at RM2,249, said Wang Tao, a Reuters market analyst for commodities and energy technicals.
Palm, soy and crude oil prices at 0454 GMT
| | | | | | | |
| --- | --- | --- | --- | --- | --- | --- |
| Contract          | Month    | Last   | Change     | Low   | High  | Volume |
| MY PALM OIL       | FEB9        | 0    | +0.00 | 0 | 0 | 0 |
| MY PALM OIL       | MAR9     | 2226   | +13.00    | 2214   | 2226     | 471 |
| MY PALM OIL       | APR9     | 2267   | +13.00    | 2255   | 2268    | 3250 |
| CHINA PALM OLEIN  | MAY9     | 4768   | +10.00    | 4760   | 4784  | 202360 |
| CHINA SOYOIL      | MAY9     | 5708    | -8.00    | 5692   | 5726  | 177686 |
| CBOT SOY OIL      | MAR9    | 30.37    | +0.04   | 30.27  | 30.39    | 2537 |
| INDIA PALM OIL    | FEB9   | 560.10    | -1.80  | 559.70  | 562.5      | 78 |
| INDIA SOYOIL      | FEB9      | 773    | -0.65     | 773  | 773.9      | 40 |
| NYMEX CRUDE       | MAR9    | 53.61    | +0.51   | 53.32  | 53.75   | 27439 |
Palm oil prices in Malaysian ringgit per tonne
CBOT soy oil in US cents per pound
Dalian soy oil and RBD palm olein in Chinese yuan per tonne
India soy oil in Indian rupee per 10 kg
Crude in US dollars per barrel
(US$1 = RM4.0630)
(US$1 = 70.4760 Indian rupees)
(US$1 = 6.7541 Chinese yuan)