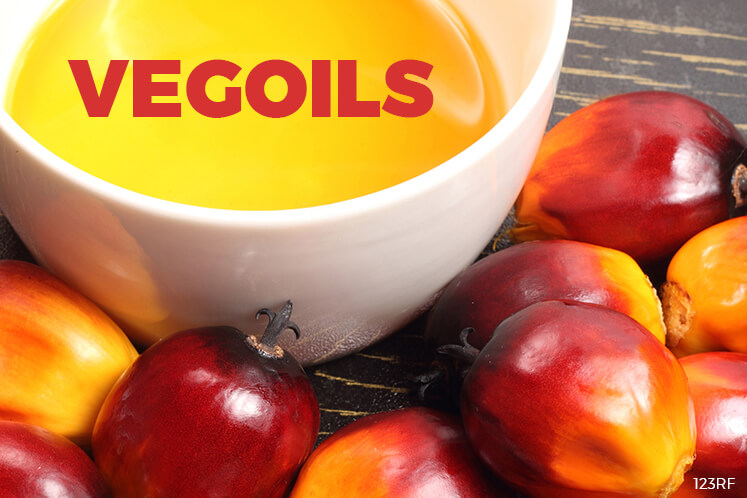 KUALA LUMPUR (March 29): Malaysian palm oil futures were in line for a second consecutive session of gains on Wednesday, supported by strength in soyoil on the Chicago Board of Trade and a weaker ringgit, the tropical oil's currency of trade.
Benchmark palm oil futures for June delivery on the Bursa Malaysia Derivatives Exchange rose 0.4% to RM2,718 (US$614.93) a tonne at the midday break.
Traded volumes stood at 16,754 lots of 25 tonnes each at noon.
"A weaker ringgit and a rebound in the Chicago Board of Trade overnight supported a recovery in palm oil, but it lacks  bullish news to support a strong rally," said a futures trader from Kuala Lumpur.
The ringgit weakened 0.1% to touch 4.4200 against the US dollar around noon on Wednesday. A weaker ringgit usually supports palm oil prices by making it cheaper for holders of foreign currencies.
Palm oil prices are also impacted by the performance of related vegetable oils, including soyoil, as they compete for a share in the global vegetable oil market.     
Soybean oil on the Chicago Board of Trade dipped 0.03% on Tuesday, but prices held stable after a near 2% decline on Monday.
In other related edible oils, the September soybean oil contract on the Dalian Commodity Exchange rose 0.03%, while the September contract for palm olein on the Dalian Commodity Exchange was up 0.7%.
Palm has been range-bound since late-February as market signals remain mixed. Traders say March demand lacks strength, while and output growth is still uncertain.
Cargo surveyor data showed a drop in Malaysian palm oil exports during the March 1-25 period, down 1.2-1.5% from the corresponding period in February.
Malaysian production in February dropped 1.4% on month. March data is however expected to show a recovery in line with the seasonal trend but recovery growth remains uncertain.
Palm oil may end its current downtrend around a support at RM2,533 per tonne and then resume its uptrend from the Aug 25, 2015 low of RM1,863 over the next three months, according to a Reuters market analyst for commodities and energy technicals.
Palm, soy and crude oil prices at 0532 GMT
| | | | | | | |
| --- | --- | --- | --- | --- | --- | --- |
| Contract          | Month    | Last  | Change     | Low   | High   | Volume |
| MY PALM OIL       | APR7     | 2870  | +11.00    | 2857   | 2870      | 162 |
| MY PALM OIL       | MAY7     | 2797  | +14.00    | 2787   | 2805      | 840 |
| MY PALM OIL       | JUN7     | 2718  | +11.00    | 2710   | 2730     | 9306 |
| CHINA PALM OLEIN  | SEP7     | 5440  | +38.00    | 5406   | 5454   | 279494 |
| CHINA SOYOIL      | SEP7     | 6204   | +2.00    | 6188   | 6236   | 272840 |
| CBOT SOY OIL      | MAY7    | 32.46   | -0.01   | 32.41  | 32.55     | 3546 |
| INDIA PALM OIL    | MAR7   | 538.10   | +1.20  | 536.50  | 538.1       | 75 |
| INDIA SOYOIL      | APR7      | 641   | -2.55  | 640.35    | 643     | 2350 |
| NYMEX CRUDE       | MAY7    | 48.56   | +0.19   | 48.39  | 48.60    | 14331 |
Palm oil prices in Malaysian ringgit per tonne
CBOT soy oil in US cents per pound
Dalian soy oil and RBD palm olein in Chinese yuan per tonne
India soy oil in Indian rupee per 10 kg
Crude in US dollars per barrel
(US$1 = RM4.4200)
(US$1 = 64.9200 Indian rupees)
(US$1 = 6.8923 Chinese yuan)