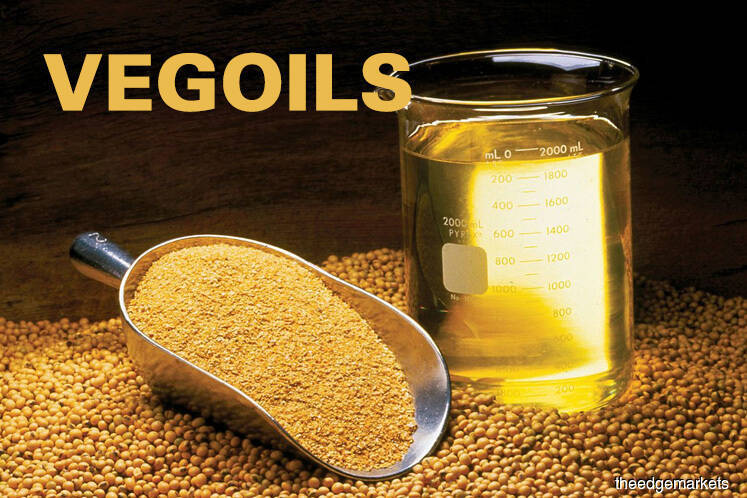 KUALA LUMPUR (May 13): Malaysian palm oil futures fell to a five-and-a-half month low in early trade on Monday, in line for a fourth consecutive day of decline, as concerns over the US-China trade war and expectations of rising output in the coming months weighed on the market.
Global stocks and commodities markets fell on Monday as the United States and China appeared at a deadlock over trade negotiations on Sunday, with Washington demanding promises of concrete changes to Chinese law and Beijing saying it would not swallow any "bitter fruit" that harmed its interests.
Benchmark palm oil contract for July delivery on the Bursa Malaysia Derivatives Exchange was last down 0.6% at RM1,972 (US$473.75) a tonne at Monday's midday break, after losing 1.3% last week.
The market earlier fell to RM1,960, its lowest levels since Nov 27.
"It looks like the market is heading lower due to the (US-China) trade tensions, and is partly down on expectations of higher output in the coming months," said a Kuala Lumpur-based trader.
"Malaysian palm production could rise from May onwards on a seasonal basis," he said, but added that the occurrence of Ramadan, the Muslim fasting month, could curb output as well.
Ramadan, which began on May 5 this year, sees Muslims worldwide fast from dawn to dusk. This slows down productivity in oil palm estates, as many workers are from Muslim-majority Indonesian and work in plantation estates is labour-intensive.
Industry regulator from the Malaysian Palm Oil Board last showed that production in April fell 1.4% from the previous month to 1.65 million tonnes, while inventories fell 6.6% to 2.73 million tonnes.
Palm oil may fall into a range of RM1,953-1,967 per tonne, said Reuters market analyst for commodities and energy technicals Wang Tao.
In related oils, the Chicago July soybean oil contract dropped 1.6%, while the May soyoil contract on the Dalian Commodity Exchange traded flat.
The Dalian May palm oil contract slipped 1%.
Palm oil prices are affected by movements in soyoil, with which it competes for global market share.    
Palm, soy and crude oil prices at 0539 GMT
| | | | | | | |
| --- | --- | --- | --- | --- | --- | --- |
| Contract          | Month    | Last  | Change     | Low    | High  | Volume |
| MY PALM OIL       | MAY9        | 0   | +0.00   | 0 | 0 | 0 |
| MY PALM OIL       | JUN9     | 1940  | -11.00    | 1930    | 1949     | 485 |
| MY PALM OIL       | JUL9     | 1972  | -11.00    | 1960    | 1979    | 6962 |
| CHINA PALM OLEIN  | MAY9     | 4094  | -40.00    | 4094    | 4206     | 130 |
| CHINA SOYOIL      | MAY9        | 0   | +0.00 | 0 | 0 | 0 |
| CBOT SOY OIL      | JUL9    | 26.37   | -0.42   | 26.36   | 26.63    | 4841 |
| INDIA PALM OIL    | MAY9   | 518.00   | -0.20  | 517.60   | 519.2      | 56 |
| INDIA SOYOIL      | MAY9      | 745   | +3.50   | 741.6   | 746.5    | 1820 |
| NYMEX CRUDE       | JUN9    | 61.63   | -0.03   | 61.21   | 61.82   | 50517 |
Palm oil prices in Malaysian ringgit per tonne
CBOT soy oil in US cents per pound
Dalian soy oil and RBD palm olein in Chinese yuan per tonne
India soy oil in Indian rupee per 10 kg
Crude in US dollars per barrel
(US$1 = RM4.1625)
(US$1 = 70.1750 Indian rupees)
(US$1 = 6.8557 Chinese yuan)