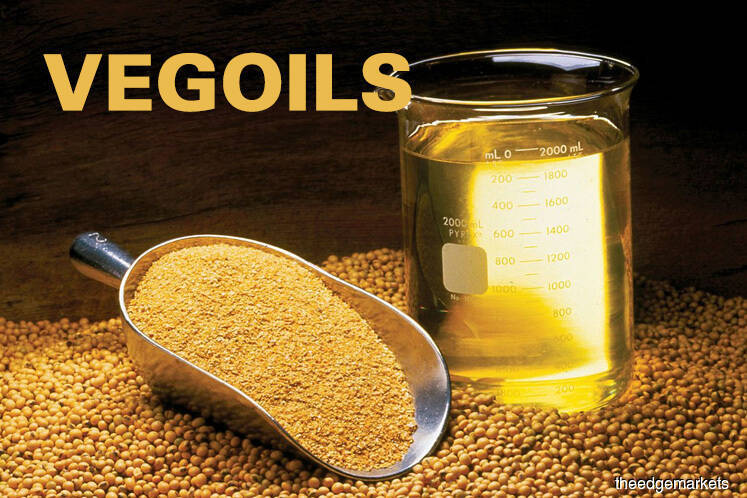 KUALA LUMPUR (May 7): Malaysian palm oil futures jumped by nearly 3% on Tuesday, recovering from a more than five-month low in the previous trading session, tracking gains in related edible oils. 
The benchmark palm oil contract for July delivery on the Bursa Malaysia Derivatives Exchange rose 2.8% to 2,040 ringgit (US$491.92) a tonne by the close for its strongest daily gain in two months. It had earlier risen as much as 2.9% to 2,042 ringgit.
Palm previously fell for seven days running, losing 5% of its value last week.
It seems to have found a support range of 1,940-1,967 ringgit a tonne and could bounce towards 2,034 ringgit, said Wang Tao, a Reuters market analyst for commodities and energy technicals.
    
"The market is up tracking soyoil and on the easing of trade tensions between the United States and China," one Kuala Lumpur-based futures trader said, though he cautioned that concerns over the trade dispute lingered in the market.
Palm oil futures fell to their lowest in more than five months on Monday, as U.S. President Donald Trump's threats to increase tariffs on Chinese imports damaged prospects for a trade deal, sending global commodities and stock markets lower.
Fears of an escalation in the trade conflict eased, after Beijing said on Tuesday that China's vice premier would travel to the United States for trade talks.
In related oils, the Chicago July soybean oil contract fell 0.8% on Monday, but rebounded with a 0.5% gain on Tuesday.
Meanwhile, the May soyoil contract on the Dalian Commodity Exchange rose 0.4% and the Dalian May palm oil contract slipped by 0.9%.
Palm oil prices are affected by movements in soyoil, with which it compete for global market share.
Palm, soy and crude oil prices at 1049 GMT
| | | | | | | |
| --- | --- | --- | --- | --- | --- | --- |
| Contract | Month | Last | Change | Low | High | Volume |
| MY PALM OIL | MAY9 | 1961 | +84.00 | 1956 | 1961 | 27 |
| MY PALM OIL | JUN9 | 2013 | +53.00 | 1974 | 2015 | 1753 |
| MY PALM OIL | JUL9 | 2039 | +55.00 | 2000 | 2042 | 15991 |
| CHINA PALM OLEIN | MAY9 | 4158 | -38.00 | 4102 | 4198 | 3496 |
| CHINA SOYOIL | MAY9 | 5230 | +18.00 | 5200 | 5284 | 542 |
| CBOT SOY OIL | MAY9 | 26.97 | +0.13 | 26.97 | 26.97 | 5 |
| INDIA PALM OIL | MAY9 | 519.8 | +6.30 | 516.50 | 521.7 | 895 |
| INDIA SOYOIL | MAY9 | 736.4 | +5.20 | 732.55 | 737.9 | 7880 |
| NYMEX CRUDE | JUN9 | 61.87 | -0.38 | 61.73 | 62.49 | 145920 |
Palm oil prices in Malaysian ringgit per tonne
CBOT soy oil in U.S. cents per pound
Dalian soy oil and RBD palm olein in Chinese yuan per tonne
India soy oil in Indian rupee per 10 kg
Crude in U.S. dollars per barrel
(US$1 = 4.1470 ringgit)
(US$1 = 69.3875 Indian rupees)
(US$1 = 6.7651 Chinese yuan)