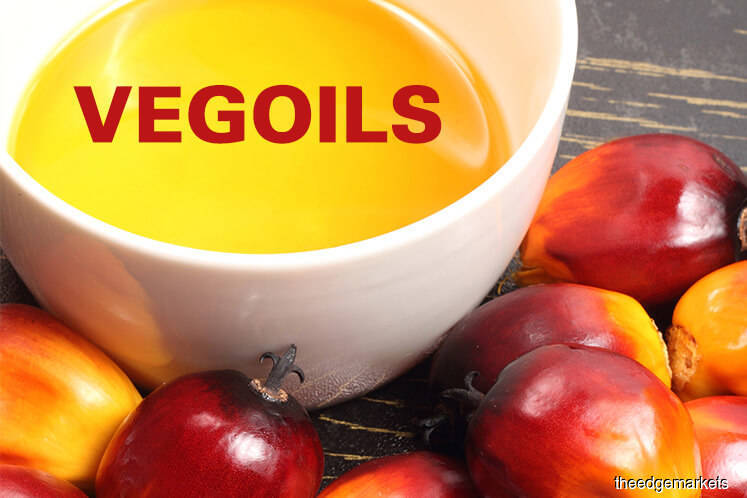 KUALA LUMPUR (April 2): Malaysian palm oil futures surged nearly 2% on Tuesday evening, tracking gains in related edible oils and on prospects of reduced stockpiles because of higher exports.
The benchmark palm oil contract for June delivery on the Bursa Malaysia Derivatives Exchange was up 1.9% at 2,153 ringgit (US$527.31) a tonne at the close of trade, its highest for a week.
The contract also registered its sharpest daily gain since Jan 3 and a second straight session of gains. 
"Palm took cues from overnight gains in soybean oil futures," said one Kuala Lumpur-based futures trader, adding that March export data from cargo surveyors also supported the market. 
"Exports are good, it is possible that end-stocks will reduce."
Cargo surveyors Intertek Testing Services and AmSpec Agri Malaysia on Monday said that Malaysia's palm oil exports in March rose about 22% from the previous month.
Another cargo surveyor, Societe Generale de Surveillance, reported a monthly rise of 28.1%.
Strong gains in exports could help to reduce stockpiles in Malaysia, which rose to their highest in nearly two decades in December. Stocks had risen unexpectedly in February by 1.3% to 3.05 million tonnes.
Official March data from the Malaysian Palm Oil Board is scheduled for release on April 10. 
In related oils, the Chicago May soybean oil contract ained 0.7% on Monday on optimism about a trade deal with China, after the U.S. Agriculture Department said private exporters reported the sale of 828,000 tonnes of soybeans to China. It was last up 0.5% on Tuesday.
Meanwhile, the May soyoil contract on the Dalian Commodity Exchange edged up 0.3% and the Dalian May palm oil contract rose 1.1%.
Palm oil prices are affected by movements in soyoil, which competes for a share in the global vegetable oil market. 
        
 Palm, soy and crude oil prices at 1059 GMT
| | | | | | | |
| --- | --- | --- | --- | --- | --- | --- |
| Contract | Month | Last | Change | Low | High | Volume |
| MY PALM OIL | APR9 | 2037 | +28.00 | 2020 | 2037 | 164 |
| MY PALM OIL | MAY9 | 2120 | +40.00 | 2090 | 2120 | 5106 |
| MY PALM OIL | JUN9 | 2153 | +40.00 | 2124 | 2154 | 21059 |
| CHINA PALM OLEIN | MAY9 | 4386 | +48.00 | 4330 | 4390 | 283470 |
| CHINA SOYOIL | MAY9 | 5406 | +14.00 | 5376 | 5418 | 205782 |
| CBOT SOY OIL | MAY9 | 28.7 | +0.13 | 28.53 | 28.75 | 4496 |
| INDIA PALM OIL | APR9 | 533.50 | +6.80 | 529.40 | 535.6 | 1551 |
| INDIA SOYOIL | APR9 | 733.95 | +4.85 | 727.1 | 734.7 | 9850 |
| NYMEX CRUDE | MAY9 | 62.11 | +0.52 | 61.62 | 62.19 | 145012 |
 Palm oil prices in Malaysian ringgit per tonne
 CBOT soy oil in U.S. cents per pound
 Dalian soy oil and RBD palm olein in Chinese yuan per tonne
 India soy oil in Indian rupee per 10 kg
 Crude in U.S. dollars per barrel
 
(US$1 = 4.0830 ringgit)
(US$1 = 6.7206 Chinese yuan)
(US$1 = 68.9700 Indian rupees)