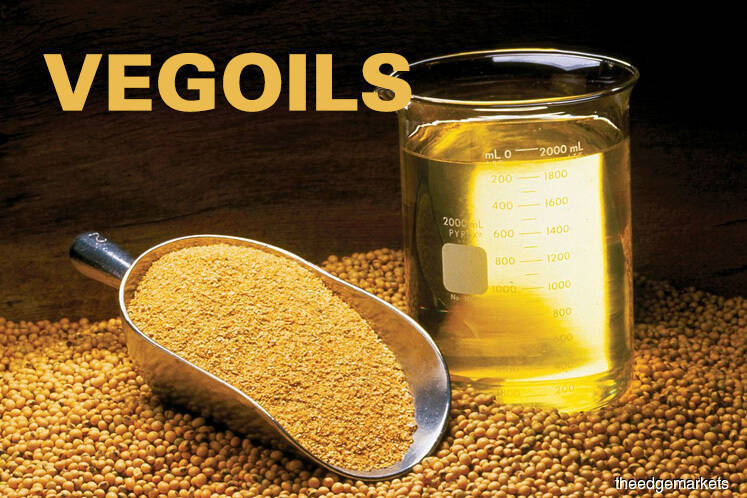 KUALA LUMPUR (Jan 28): Malaysian palm oil futures opened at their highest in nearly seven months on Monday and were headed for a sixth session of gains in seven, supported by strength in related edible oils.
The benchmark palm oil contract for April delivery on the Bursa Malaysia Derivatives Exchange opened 1.7% higher at RM2,333 and was last up 1.4% at RM2,325 (US$565.97) a tonne at the midday break.    
Trading volumes stood at 11,091 lots of 25 tonnes each.
"Palm is up tracking strength in the Dalian Commodity Exchange," said a futures trader from Kuala Lumpur, referring to soyoil.
Palm prices rose on Monday even though data from a millers' association showed gains in January output, as the market has "already factored in the rush to harvest ahead of festive holidays", she said.
Malaysian markets will be closed on Feb 5-6 for the Lunar New Year celebrations.
Strong gains in US soyoil on Friday also helped palm, said another trader.
"The (millers' association) output data only shows production in Peninsular Malaysia is up," he said. The eastern states of Sabah and Sarawak are the country's top producing regions.
Palm oil may gain more to RM2,351 per tonne as it has cleared a resistance at RM2,322, said Wang Tao, a Reuters market analyst for commodities and energy technicals.
Meanwhile, soyoil prices on the US Chicago Board of Trade gained 1.8% on Friday, supported by concerns of Brazil's crop size and short-covering ahead of planned US-China trade talks next week.
The Chicago March soybean oil contract was up 0.1% on Monday.
In other related oils, the May soybean oil contract on the Dalian Commodity Exchange jumped 1.8%, and the Dalian May palm oil contract rose 1.6%.
Palm oil prices are affected by movements in soyoil rates, as they compete for a share in the global vegetable oil market.
Palm, soy and crude oil prices at 0504 GMT:
| | | | | | | |
| --- | --- | --- | --- | --- | --- | --- |
| Contract          | Month    | Last   | Change     | Low   | High  | Volume |
| MY PALM OIL       | FEB9     | 2211   | +21.00    | 2206   | 2212      | 54 |
| MY PALM OIL       | MAR9     | 2290   | +25.00    | 2283   | 2298    | 1357 |
| MY PALM OIL       | APR9     | 2325   | +31.00    | 2315   | 2333    | 5325 |
| CHINA PALM OLEIN  | MAY9     | 4848   | +74.00    | 4768   | 4858  | 379516 |
| CHINA SOYOIL      | MAY9     | 5788  | +100.00    | 5682   | 5806  | 387856 |
| CBOT SOY OIL      | MAR9    | 30.06    | +0.03   | 29.97   | 30.1    | 3920 |
| INDIA PALM OIL    | JAN9   | 564.00    | +4.00  | 563.70    | 565     | 152 |
| INDIA SOYOIL      | FEB9    | 776.7    | +6.85     | 773  | 777.8    | 4280 |
| NYMEX CRUDE       | MAR9    | 53.38    | -0.31   | 53.20  | 53.64   | 30684 |
Palm oil prices in Malaysian ringgit per tonne
CBOT soy oil in US cents per pound
Dalian soy oil and RBD palm olein in Chinese yuan per tonne
India soy oil in Indian rupee per 10 kg
Crude in US dollars per barrel
(US$1 = RM4.1080)
(US$1 = 71.0560 Indian rupees)
(US$1 = 6.7291 Chinese yuan)