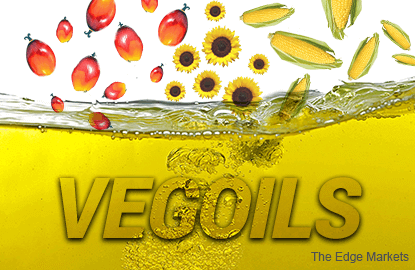 KUALA LUMPUR (Feb 10): Malaysian palm oil futures were in line for a fourth consecutive session of gains in early trade on Friday, climbing to their highest in over two weeks, supported by expectations of low inventory numbers ahead of a government data release.
Benchmark palm oil futures for April delivery on the Bursa Malaysia Derivatives Exchange rose 1.1% to 3,132 ringgit (US$704.77) a tonne at the midday break. It earlier hit a high of 3,135 ringgit, the highest since Jan 25. 
Traded volumes stood at 18,930 lots of 25 tonnes each at noon.
The market was earlier up on bullish expectations of falling inventory figures, said a futures trader from Kuala Lumpur, but added that prices were not likely to sustain in the second half of trade, following the official data release from the Malaysian Palm Oil Board (MPOB) at the midday break on Friday.
"Both stocks and exports are below market expectations. We should see some adjustment in terms of prices in the afternoon," he said.
Palm oil inventories in Malaysia, the world's second largest producer of the tropical oil, fell to a five-month low at end-January, MPOB data showed.
The 7.6% decline in end-stocks to 1.54 million tonnes, however, was weaker than market expectations, which pegged stockpiles to drop 10.7% to 1.49 million tonnes.
Exports slightly rose 1.2% to 1.28 million tonnes, while output declined more than forecast on the impact of flooding from monsoon rains and fewer harvesting days in January, due to the Lunar New Year celebrations.
Palm oil may break a resistance at 3,128 ringgit per tonne, and gain more to the next resistance at 3,169 ringgit, according to Wang Tao, a Reuters market analyst for commodities and energy technicals.
In other related edible oils, the March soybean oil contract on the Chicago Board of Trade was up 0.3%, while the May soybean oil contract on the Dalian Commodity Exchange rose 0.4%.
The May contract for Dalian palm olein gained 0.7%.
Palm, soy and crude oil prices at 0552 GMT
| | | | | | | |
| --- | --- | --- | --- | --- | --- | --- |
| Contract | Month | Last | Change | Low | High | Volume |
| MY PALM OIL | FEB7 | 3335 | +34.00 | 3310 | 3335 | 156 |
| MY PALM OIL | MAR7 | 3227 | +36.00 | 3215 | 3228 | 1485 |
| MY PALM OIL | APR7 | 3132 | +34.00 | 3118 | 3135 | 8544 |
| CHINA PALM OLEIN | MAY7 | 6266 | +46.00 | 6178 | 6284 | 387988 |
| CHINA SOYOIL | MAY7 | 6936 | +26.00 | 6874 | 6950 | 261778 |
| CBOT SOY OIL | MAR7 | 34.78 | +0.11 | 34.62 | 34.96 | 3958 |
| INDIA PALM OIL | FEB7 | 581.70 | -0.40 | 581.60 | 585.6 | 552 |
| INDIA SOYOIL | FEB7 | 706 | -0.15 | 705.7 | 711 | 1680 |
| NYMEX CRUDE | MAR7 | 53.08 | +0.08 | 53.00 | 53.16 | 11641 |
 Palm oil prices in Malaysian ringgit per tonne
 CBOT soy oil in U.S. cents per pound
 Dalian soy oil and RBD palm olein in Chinese yuan per tonne
 India soy oil in Indian rupee per 10 kg
 Crude in U.S. dollars per barrel
    
(US$1 = 4.4440 ringgit)
(US$1 = 66.8800 Indian rupees)
(US$1 = 6.8765 Chinese yuan)