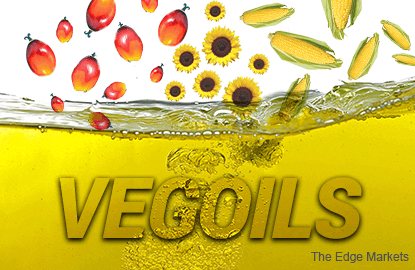 KUALA LUMPUR (Jan 13): Malaysian palm oil futures climbed to their strongest levels in a week in early trade on Friday due to improving demand and tight supply, before paring gains in the afternoon on weakening rival oils.
Benchmark palm oil futures for March delivery on the Bursa Malaysia Derivatives Exchange rose 0.1% to RM3,120 (US$700) a tonne at the close of trade. The contract earlier reached RM3,150, its highest level since Jan 5.
Traded volumes stood at 54,537 lots of 25 tonnes each at the end of the trading day.
Palm oil has enjoyed bullish fundamentals for some time, said a trader, pointing to tight market supplies and improving export demand.
Palm's gains softened later in the evening, tracking weaker performing rival oils, though bullish USDA data had earlier provided support.
The USDA cut its estimate of the US 2016 harvest, prompting soybean futures on the Chicago Board of Trade to hit a three-and-a-half week high after the data was released this week.
The March soybean oil contract on the CBOT was fell 0.4% on Friday, after rising to a near one-month high in its previous trading session.
In other related vegetable oils, the May contract for Dalian palm olein was up 0.1%.
Palm oil prices are affected by the movement of related vegetable oils, as they compete for a share in the global edible oils market.
Chinese imports are also supporting prices. Demand for Malaysian palm from the world's second largest palm oil consumer rose more than 30% in the first 10 days of January compared with the same period last month on restocking ahead of the Lunar New Year celebrations, cargo surveyor data showed.
The festival, celebrated in late January in China, typically stokes consumption of palm oil in cooking.
To meet that demand, Malaysia's palm oil exports jumped more than 8% in the first 10 days of January from the corresponding period last month, cargo surveyor data showed.
Palm, soy and crude oil prices at 1047 GMT
| | | | | | | |
| --- | --- | --- | --- | --- | --- | --- |
| Contract          | Month    | Last  | Change     | Low    | High  | Volume |
| MY PALM OIL       | JAN7     | 3330  | +25.00    | 3300    | 3330      | 68 |
| MY PALM OIL       | FEB7     | 3183   | +5.00    | 3173    | 3210    | 2643 |
| MY PALM OIL       | MAR7     | 3118   | +4.00    | 3108    | 3150   | 23117 |
| CHINA PALM OLEIN  | MAY7     | 6268   | +4.00    | 6240    | 6342  | 677188 |
| CHINA SOYOIL      | MAY7     | 6936   | +0.00    | 6896    | 6994  | 370210 |
| CBOT SOY OIL      | MAR7    | 35.92   | +0.00   | 35.85    | 36.2    | 6799 |
| INDIA PALM OIL    | JAN7   | 588.60   | +0.90  | 588.00   | 592.7     | 941 |
| INDIA SOYOIL      | JAN7    | 730.6   | +1.25   | 730.4   | 733.4    | 2120 |
| NYMEX CRUDE       | FEB7    | 52.40   | -0.61   | 52.30   | 53.17   | 74081 |
Palm oil prices in Malaysian ringgit per tonne
CBOT soy oil in US cents per pound
Dalian soy oil and RBD palm olein in Chinese yuan per tonne
India soy oil in Indian rupee per 10 kg
Crude in US dollars per barrel
(US$1 = RM4.4600)
(US$1 = 68.1929 Indian rupees)
(US$1 = 6.8970 Chinese yuan)