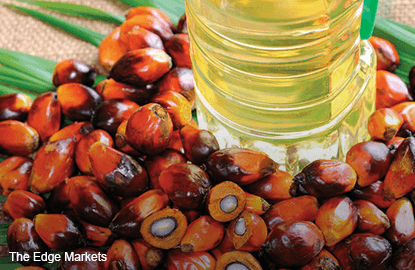 MUMBAI (Feb 8): Malaysian palm oil futures hit a two-week high on Wednesday, stretching gains into a third session, on expectations of a drop in stockpiles amid strong exports by the world's second-largest producer of the tropical oil.
Benchmark palm oil futures for April delivery on the Bursa Malaysia Derivatives Exchange were up 1.2% at RM3,119 (US$702.79) per tonne at the mid-day break. The contract had risen to RM3,123 earlier in the day, its highest since Jan 25.
Traded volumes stood at 16,877 lots of 25 tonnes each.
"If you take all the export numbers from ITS (Intertek Testing Services) and SGS (Societe Generale de Surveillance) and January production numbers, it should see a drawdown in stocks," said a Kuala Lumpur-based trader.
Malaysia's palm oil exports in January rose 8.1% from a month ago, cargo surveyor ITS said. SGS, another cargo surveyor, estimated a 4.3% rise in January exports.
Palm oil inventories likely fell to their lowest in five months at end-January, led by a sharp fall in production and firmer exports, according to a Reuters survey.
"The market is eagerly waiting for MPOB data. It will confirm a sharp drop in the production in January," said another trader based in Kuala Lumpur.
The Malaysian Palm Oil Board (MPOB) is expected to release the data for January at the end of this week.
A drop in crude oil prices, however, limited the upside in palm, tradre said. Benchmark Brent crude was 0.80% lower at US$54.61.
The May contract for Dalian soybean oil rose 0.73%, while the palm olein contract jumped 1.33%.
Palm oil is expected to rise to RM3,128 per tonne as it has broken a resistance at 3,089, according to Reuters market analyst for commodities and energy technicals, Wang Tao.
"The next resistance will be at RM3,128, a break above which could lead to a further gain to RM3,169," he said.
On the Chicago Board Of Trade, the March soybean oil contract gained 0.55%.
| | | | | | | |
| --- | --- | --- | --- | --- | --- | --- |
| Contract | Month     | Last  | Change     | High      | Low     | Volume |
| MY PALM OIL      | FEB7   | 3303.00   | 25.00  | 3310.00  | 3295.00     | 242.00 |
| MY PALM OIL     | MAR7   | 3210.00   | 42.00  | 3210.00  | 3188.00    | 1396.00 |
| MY PALM OIL     | APR7   | 3119.00   | 37.00  | 3123.00  | 3098.00    | 8516.00 |
| CHINA PALM OLEIN | MAY7   | 6206.00   | 56.00  | 6220.00  | 6118.00  | 388288.00 |
| CHINA SOYOIL     | MAY7   | 6902.00   | 34.00  | 6914.00  | 6832.00  | 252608.00 |
| CBOT SOY OIL    | MAR7     | 34.45    | 4.70    | 34.51    | 34.25    | 3231.00 |
| INDIA PALM OIL  | FEB7    | 582.60    | 4.70   | 584.40   | 581.00     | 720.00 |
| INDIA SOYOIL | FEB7     | 704.1    | 2.15      | 705      | 703       | 2150 |
| NYMEX CRUDE | MAR7     | 51.60   | -0.57    | 51.66    | 51.22   | 31933.00 |
(US$1 = RM4.4380)
(US$1 = 67.33 Indian rupees)
(US$1 = 6.88 Chinese yuan)