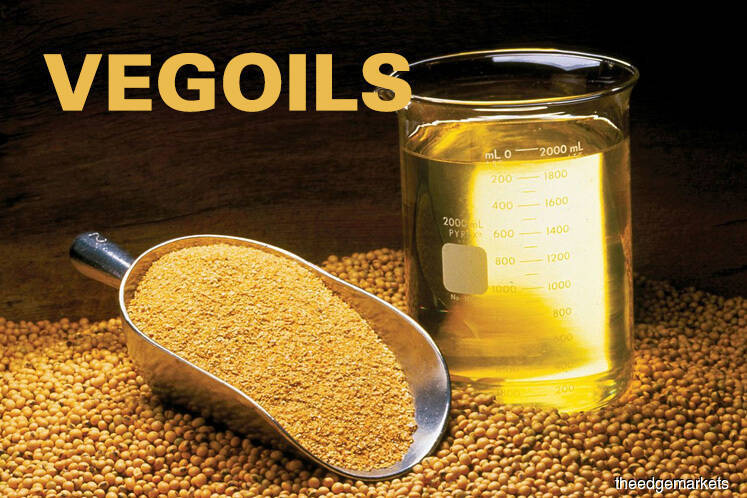 KUALA LUMPUR (May 24): Malaysian palm oil futures fell for a third straight session on Friday and hit a one-and-a-half-week low, tracking weakness in overnight crude and US soyoil prices.
The benchmark palm oil contract for August delivery on the Bursa Malaysia Derivatives Exchange was down 0.4% at RM2,009 (US$479.36) per tonne at the midday break.
Earlier in the session, it fell nearly 1% to RM1,997, its weakest level since May 14. Palm oil prices were down 4.2% for the week.
Palm oil may test a support at RM1,967 per tonne, a break below which could open the way towards RM1,857, said Wang Tao, a Reuters market analyst for commodities and energy technicals.
"Palm is down tracking the sharp drops in overnight CBOT and crude oil prices," said a Kuala Lumpur-based trader, referring to US soyoil on the Chicago Board of Trade.
Crude oil prices plunged about 4-5% on Thursday, as trade tensions between the United States and China dampened demand outlook.
Global stock markets also declined on Thursday as concerns grew that the China-US trade conflict was fast turning into a technology cold war.
In related edible oils, the Chicago July soybean oil contract dropped 1.9% on Thursday as the US Department of Agriculture announced a US$14.5 billion direct payment programme that ties payment rates to the number of acres planted.
Soyoil prices were last up 0.3% on Friday.
Meanwhile, the September soyoil contract on the Dalian Commodity Exchange was down 0.4% and the Dalian September palm oil contract fell 0.6%.
Palm oil prices are affected by movements in soyoil, with which it competes for global market share.
Palm, soy and crude oil prices at 0511 GMT
| | | | | | | |
| --- | --- | --- | --- | --- | --- | --- |
| Contract          | Month    | Last  | Change     | Low   | High  | Volume |
| MY PALM OIL       | JUN9     | 1969   | -5.00    | 1965   | 1969      | 12 |
| MY PALM OIL       | JUL9     | 1997   | -5.00    | 1985   | 1998     | 784 |
| MY PALM OIL       | AUG9     | 2009   | -7.00    | 1997   | 2012    | 4762 |
| CHINA PALM OLEIN  | SEP9     | 4370  | -24.00    | 4348   | 4378  | 239442 |
| CHINA SOYOIL      | SEP9     | 5360  | -22.00    | 5332   | 5368  | 174432 |
| CBOT SOY OIL      | JUL9    | 26.86   | +0.08   | 26.79  | 26.93    | 2478 |
| INDIA PALM OIL    | MAY9   | 508.00   | -2.80  | 506.70    | 512     | 247 |
| INDIA SOYOIL      | JUN9    | 741.7   | +0.10   | 740.5  | 741.9     | 470 |
| NYMEX CRUDE       | JUL9    | 58.57   | +0.66   | 58.01  | 58.66   | 53887 |
Palm oil prices in Malaysian ringgit per tonne
CBOT soy oil in US cents per pound
Dalian soy oil and RBD palm olein in Chinese yuan per tonne
India soy oil in Indian rupee per 10 kg
Crude in US dollars per barrel
(US$1 = RM4.1910)
(US$1 = 69.7260 Indian rupees)
(US$1 = 6.9104 Chinese yuan)