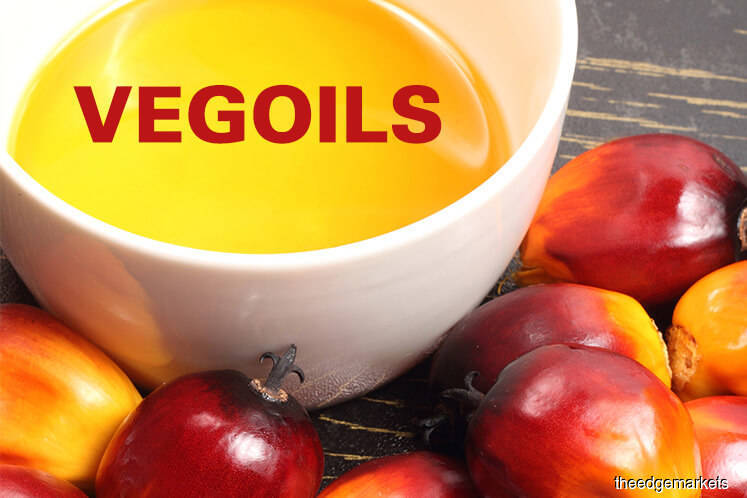 KUALA LUMPUR (May 3): Malaysian palm oil futures bounced back from near five-month lows on Friday as traders covered short positions, but were headed for their biggest weekly drop since early November.
The benchmark palm oil contract for July delivery on the Bursa Malaysia Derivatives Exchange was up 0.3% at RM2,038 (US$492.27) a tonne at noon, after five straight sessions of falls.
Earlier in the session, it declined as much 1.1% to RM2,009, its weakest since Dec 11.
If the contract closes higher for the day, it would be its first session of gain in nine.
For the week, palm has lost 3.8%.
"We're seeing some short-covering after the sharp drop yesterday," said a Kuala Lumpur-based trader.
The market fell 3% on Thursday due to weakness in soyoil prices on the Chicago Board of Trade and weak demand sentiment.
Chicago soybean futures were on track for a fourth straight weekly loss on Friday as expectations of higher US production and slowing demand in top buyer China dragged prices lower.
Malaysia had said earlier this week it would defer export duties on crude palm oil for the rest of the year in efforts to boost exports and expand in new markets.
Traders, however, say this might not boost demand as the duty has been at 0% since September.
In other related edible oils, the Chicago May soybean oil contract declined 0.5% on Thursday, and was flat at around 0500 GMT.    
Markets in China are closed for a national holiday, and will reopen on Monday.
Palm, soy and crude oil prices at 0513 GMT
| | | | | | | |
| --- | --- | --- | --- | --- | --- | --- |
| Contract          | Month    | Last  | Change     | Low    | High  | Volume |
| MY PALM OIL       | MAY9        | 0   | +0.00 | 0 | 0 | 0 |
| MY PALM OIL       | JUN9     | 2006   | +4.00    | 1978    | 2016     | 518 |
| MY PALM OIL       | JUL9     | 2038   | +6.00    | 2009    | 2046    | 8333 |
| CHINA PALM OLEIN  | MAY9        | 0   | +0.00 | 0 | 0 | 0 |
| CHINA SOYOIL      | MAY9        | 0   | +0.00 | 0 | 0 | 0 |
| CBOT SOY OIL      | MAY9    | 27.23   | +0.00       | 0  | 0 | 414 |
| INDIA PALM OIL    | MAY9   | 519.50   | +3.00  | 517.60   | 520.6     | 155 |
| INDIA SOYOIL      | MAY9      | 738   | +2.55   | 734.6   | 738.5    | 1370 |
| NYMEX CRUDE       | JUN9    | 61.60   | -0.21   | 61.51   | 61.84   | 28778 |
Palm oil prices in Malaysian ringgit per tonne
CBOT soy oil in US cents per pound
Dalian soy oil and RBD palm olein in Chinese yuan per tonne
India soy oil in Indian rupee per 10 kg
Crude in US dollars per barrel
(US$1 = RM4.1400)
(US$1 = 69.3910 Indian rupees)
(US$1 = 6.7337 Chinese yuan)