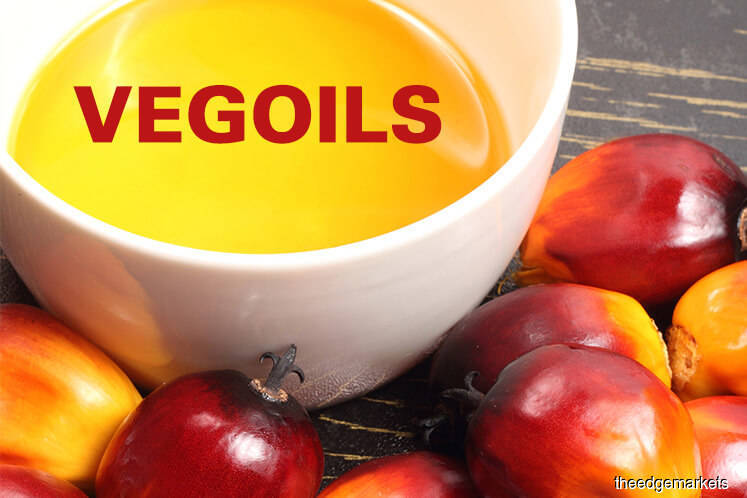 KUALA LUMPUR (June 17): Malaysian palm oil futures rose in first-half trade on Monday, buoyed by gains in US soyoil on the Chicago Board of Trade (CBOT) overnight and a softer ringgit.
The benchmark palm oil contract for September delivery on the Bursa Malaysia Derivatives Exchange was up 0.6% at RM2,031 (US$486.58) per tonne at the midday break.
Palm oil fell last week on weaker soyoil prices and worries of slowing export demand.   
Cargo surveyor Intertek Testing Services said Malaysian palm oil products for June 1-15 dropped 22.5% from a month earlier, while independent inspection company AmSpec Agri Malaysia saw an 18.9% decline in the same period.  
"Palm is firm following the related vegetable oil markets and also a weaker ringgit," said a Kuala Lumpur-based futures trader.
A weaker ringgit makes palm oil more attractive to buyers holding foreign currencies. The Malaysian currency fell 0.22% against the US dollar.
The Chicago July soybean oil contract edged up 0.8%, reversing most of the previous session's losses.
In other related oils, the September soyoil contract on the Dalian Commodity Exchange fell 0.04% and the Dalian September palm oil contract was down 0.6%.
Palm oil prices are affected by movements in related edible oils as they compete for a share in the global vegetable oil market.    
Palm, soy and crude oil prices at 0445 GMT
| | | | | | | |
| --- | --- | --- | --- | --- | --- | --- |
| Contract          | Month    | Last  | Change     | Low   | High  | Volume |
| MY PALM OIL       | JUL9     | 2019  | +17.00    | 1993   | 2020     | 446 |
| MY PALM OIL       | AUG9     | 2026  | +17.00    | 1996   | 2026    | 5484 |
| MY PALM OIL       | SEP9     | 2031  | +13.00    | 2002   | 2032    | 8394 |
| CHINA PALM OLEIN  | SEP9     | 4364  | -26.00    | 4358   | 4390  | 268106 |
| CHINA SOYOIL      | SEP9     | 5484   | -2.00    | 5462   | 5504  | 239086 |
| CBOT SOY OIL      | JUL9    | 27.85   | +0.24   | 27.74  | 27.92    | 4709 |
| INDIA PALM OIL    | JUN9   | 509.20   | +2.90  | 505.40  | 511.5     | 193 |
| INDIA SOYOIL      | JUN9    | 758.9   | +1.40     | 757    | 759     | 610 |
| NYMEX CRUDE       | JUL9    | 52.56   | +0.05   | 52.26  | 52.74   | 35688 |
Palm oil prices in Malaysian ringgit per tonne
CBOT soy oil in US cents per pound
Dalian soy oil and RBD palm olein in Chinese yuan per tonne
India soy oil in Indian rupee per 10 kg
Crude in US dollars per barrel
(US$1 = 69.8710 Indian rupees)
(US$1 = 6.9237 Chinese yuan)
(US$1 = RM4.1740)