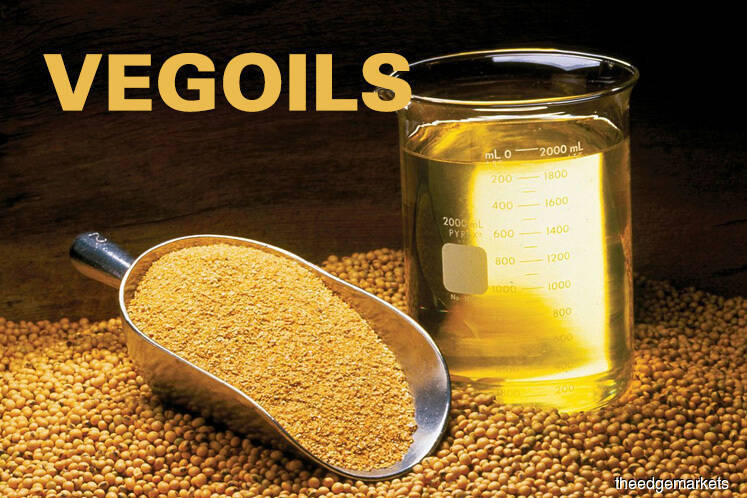 KUALA LUMPUR (Feb 20): Malaysian palm oil futures edged higher on Wednesday, supported  by firm cargo surveyor export data for the first 20 days of this month although higher-than-expected production weighed on the market.
The benchmark palm oil contract for May delivery on the Bursa Malaysia Derivatives Exchange was up 0.1% at RM2,262 a tonne at the midday break. Earlier in the session, the contract fell to a three-session low of RM2,252.
Trading volumes stood at 10,013 lots of 25 tonnes each at noon.
The market was held by firm export figures, said a Kuala Lumpur-based trader, adding that he was not bullish as production is still higher than expected.
"On a year-on-year basis, production is still high," he said.   
Malaysia's palm oil exports from Feb 1-20 rose 0.03% from a month earlier, independent inspection company AmSpec Agri Malaysia reported on Wednesday.
Production fell 3.9% to 1.74 million tonnes in January, data from the Malaysian Palm Oil Board showed.
Output of the edible oil typically falls during the first quarter of the year in line with seasonal trend.
In other related oils, the Chicago March soybean oil contract was up 0.4%, while the May soyoil contract on the Dalian Commodity Exchange fell 0.7%.
Meanwhile, the Dalian May palm oil contract declined 1.3%.
Palm oil prices are affected by movements in soyoil, as they compete for a share in the global vegetable oil market.     
Palm, soy and crude oil prices at 0501 GMT
| | | | | | | |
| --- | --- | --- | --- | --- | --- | --- |
| Contract          | Month    | Last  | Change     | Low    | High  | Volume |
| MY PALM OIL       | MAR9     | 2152   | -3.00    | 2149    | 2162     | 163 |
| MY PALM OIL       | APR9     | 2236   | +1.00    | 2227    | 2244    | 2429 |
| MY PALM OIL       | MAY9     | 2262   | +2.00    | 2252    | 2270    | 4668 |
| CHINA PALM OLEIN  | MAY9     | 4756  | -64.00    | 4742    | 4800  | 412762 |
| CHINA SOYOIL      | MAY9     | 5720  | -40.00    | 5710    | 5772  | 281296 |
| CBOT SOY OIL      | MAR9    | 29.85   | +0.11   | 29.71   | 29.91    | 5058 |
| INDIA PALM OIL    | FEB9   | 567.50   | +0.00  | 567.50   | 571.8      | 19 |
| INDIA SOYOIL      | FEB9    | 783.2   | -0.10   | 783.2  | 783.95     | 300 |
| NYMEX CRUDE       | MAR9    | 56.09   | +0.00   | 55.82   | 56.39     | 749 |
Palm oil prices in Malaysian ringgit per tonne
CBOT soy oil in US cents per pound
Dalian soy oil and RBD palm olein in Chinese yuan per tonne
India soy oil in Indian rupee per 10 kg
Crude in US dollars per barrel