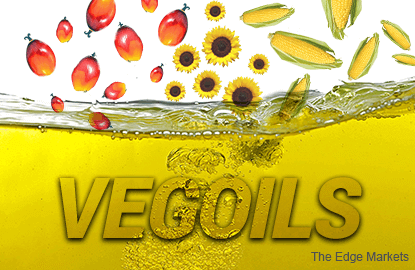 KUALA LUMPUR (March 6): Malaysian palm oil futures climbed to their highest levels in two weeks on Monday, charting a fifth straight day of gains on stronger soyoil and forecasts of weaker output.
Benchmark palm oil futures for May delivery on the Bursa Malaysia Derivatives Exchange rose 1.1% to 2,893 ringgit (US$650) a tonne at the end of the trading day. It earlier hit 2,898 ringgit, its highest since Feb 17, and has gained 4.4% since the start of the month.
Traded volumes stood at 36,939 lots of 25 tonnes each at on Monday evening.
Palm had slid 8.5% in February due to expectations of rising output and weakening demand, but was then lifted by soyoil prices last week which rose on reports that the U.S. president was preparing an executive order on biofuels, which counts soyoil as a feedstock, although the claims were later denied.
Palm oil prices respond to movements of related oils, including soyoil, because they compete for a share in the global vegetable oils market.
"Soyoil was still trading on the higher end on Friday night and (February) production numbers are on a decline," said a futures trader from Kuala Lumpur, but he did not expect the rally to extend much longer. 
"Speakers at an industry conference will be bearish in the next two days," he said, referring to a palm and lauric oil conference in Kuala Lumpur this week.
Palm prices are seen weakening between now and the second half of the year, because production levels are expected to recover when the effects of a crop-damaging El Nino wear off.
Palm oil production for the full month of February is seen declining from a month ago, according to a Reuters poll, which pegged output to fall 4.5% to 1.22 million tonnes.
Palm oil may temporarily end its current bounce around resistance at 2,880 ringgit per tonne, said Reuters market analyst for commodities and energy technicals Wang Tao.
In related vegetable oils, soybean oil on the Chicago Board of Trade rose 0.2%, while the May soybean oil contract on the Dalian Commodity Exchange was also up 0.3%. 
The May contract for palm olein on the Dalian Commodity Exchange gained 1%.
Palm, soy and crude oil prices at 1100 GMT
| | | | | | | |
| --- | --- | --- | --- | --- | --- | --- |
| Contract | Month | Last | Change | Low | High | Volume |
| MY PALM OIL | MAR7 | 3050 | +10.00 | 2899 | 3050 | 90 |
| MY PALM OIL | APR7 | 2950 | +30.00 | 2930 | 2950 | 1816 |
| MY PALM OIL | MAY7 | 2892 | +30.00 | 2872 | 2898 | 19525 |
| CHINA PALM OLEIN | MAY7 | 5934 | +56.00 | 5858 | 5966 | 482800 |
| CHINA SOYOIL | MAY7 | 6686 | +18.00 | 6636 | 6728 | 326362 |
| CBOT SOY OIL | MAY7 | 34.43 | +0.17 | 34.27 | 34.6 | 7448 |
| INDIA PALM OIL | MAR7 | 542.60 | +3.00 | 542.00 | 547 | 1857 |
| INDIA SOYOIL | MAR7 | 669 | +0.70 | 667.3 | 672.05 | 10820 |
| NYMEX CRUDE | APR7 | 53.02 | -0.31 | 52.76 | 53.38 | 77046 |
 Palm oil prices in Malaysian ringgit per tonne
 CBOT soy oil in U.S. cents per pound
 Dalian soy oil and RBD palm olein in Chinese yuan per tonne
 India soy oil in Indian rupee per 10 kg
 Crude in U.S. dollars per barrel
 
(US$1 = 4.4460 ringgit)
(US$1 = 66.7150 Indian rupees)
(US$1 = 6.8950 Chinese yuan)