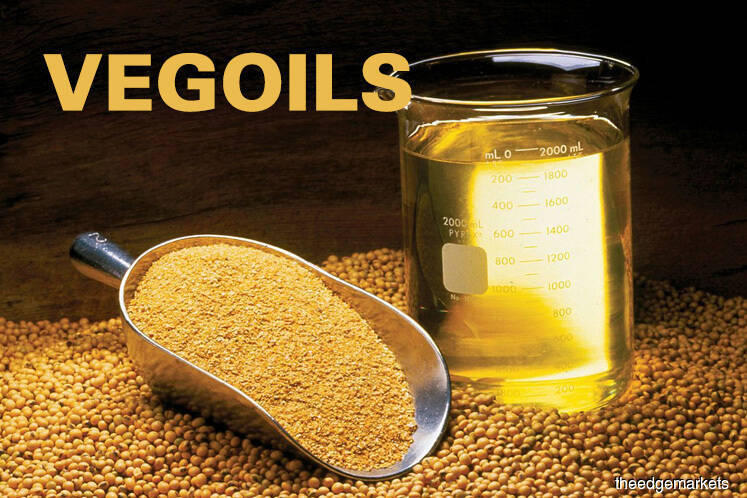 KUALA LUMPUR (May 31): Malaysian palm oil futures declined in evening trade on Friday, weighed down by weakness in crude oil and U.S. soyoil prices on the Chicago Board of Trade.
The benchmark palm oil contract for August delivery on the Bursa Malaysia Derivatives Exchange closed 0.7% lower at 2,069 ringgit (US$493.91) per tonne at the end of the trading day.
The market is up 2.8% this week, but charted a fourth straight monthly decline with a 1.2% drop on-month.
"Crude oil and soyoil prices fell, and export gains are also reducing," said a futures trader in Kuala Lumpur, as palm oil prices are impacted by movements in related commodities.
"Even though end-stocks in May are going to be lower (than April), the market is looking at the reducing growth in demand."
Malaysian palm oil exports also rose 6.5%-10.2% on a monthly basis in May, according to data from cargo surveyors Societe Generale de Surveillance, Intertek Testing Services and AmSpec Agri Malaysia on Friday.
Oil fell on Friday and held on track for its biggest monthly drop in six months, as comments from U.S. President Donald Trump ramped up trade tensions, weighing on the demand outlook.
Meanwhile, the Chicago July soybean oil contract declined 0.7%, after four earlier sessions of gains. Soybean prices are set to finish May on a positive note for the first time in four months.
In other related oils, the September soyoil contract on the Dalian Commodity Exchange slipped 0.4% and the Dalian September palm oil contract eased
Palm oil prices are affected by movements in soyoil, with which it competes for global market share.
Palm, soy and crude oil prices at 1106 GMT
| | | | | | | |
| --- | --- | --- | --- | --- | --- | --- |
| Contract | Month | Last | Change | Low | High | Volume |
| MY PALM OIL | JUN9 | 2033 | +10.00 | 2012 | 2033 | 250 |
| MY PALM OIL | JUL9 | 2054 | -14.00 | 2050 | 2075 | 2544 |
| MY PALM OIL | AUG9 | 2071 | -15.00 | 2065 | 2093 | 15231 |
| CHINA PALM OLEIN | SEP9 | 4470 | -12.00 | 4464 | 4492 | 339636 |
| CHINA SOYOIL | SEP9 | 5482 | -22.00 | 5480 | 5520 | 315132 |
| CBOT SOY OIL | JUL9 | 27.59 | -0.19 | 27.54 | 27.83 | 8345 |
| INDIA PALM OIL | MAY9 | 518.30 | -1.20 | 518.00 | 519.4 | 898 |
| INDIA SOYOIL | JUN9 | 753.5 | -3.55 | 747.8 | 757.55 | 6860 |
| NYMEX CRUDE | JUL9 | 55.45 | -1.14 | 54.83 | 56.61 | 253933 |
Palm oil prices in Malaysian ringgit per tonne
CBOT soy oil in U.S. cents per pound
Dalian soy oil and RBD palm olein in Chinese yuan per tonne
India soy oil in Indian rupee per 10 kg
Crude in U.S. dollars per barrel
(US$1 = 4.1890 ringgit)
(US$1 = 69.8025 Indian rupees)
(US$1 = 6.9117 Chinese yuan)