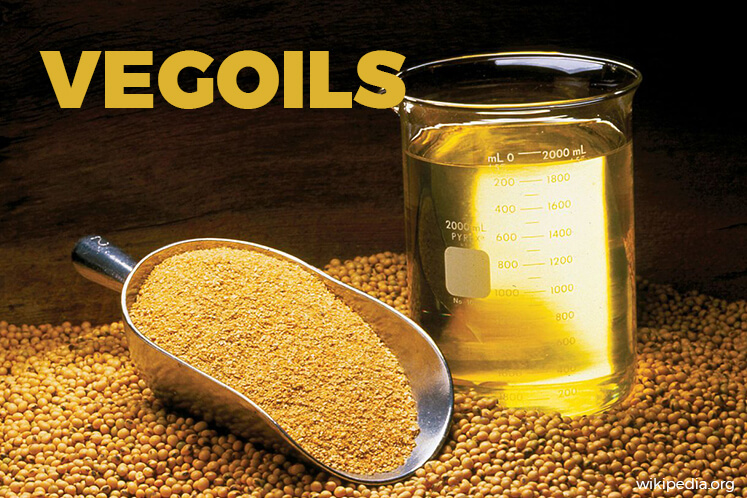 KUALA LUMPUR (March 24): Malaysian palm oil futures fell to their lowest in a week on Friday evening, tracking weaker performing related oils.
Benchmark palm oil futures for June delivery on the Bursa Malaysia Derivatives Exchange slipped 0.6% at RM2,754 (US$622.65) a tonne at the end of the trading day. The contract earlier hit an intraday low of RM2,742, its weakest level since March 16.
Traded volumes stood at 35,912 lots of 25 tonnes each on Friday evening. Palm is down 1.7% for the week.
"Soybean oil is one factor, another thing is some are taking advantage of higher prices in the previous sessions to sell," said a Kuala Lumpur-based futures trader, referring to soyoil on the Chicago Board of Trade.
Palm had climbed to two-week highs on Wednesday before declining on Thursday and Friday.
Palm oil prices are affected by movements in other edible oils, as they compete for a share in the global vegetable oils market.
US soyoil declined in line with weaker performing soybeans on Friday, which fell as global supplies remained high despite the recent strong demand for US supplies.       
Soybean oil on the Chicago Board of Trade was down 1.1%, while the September soybean oil contract on the Dalian Commodity Exchange fell as much as 1.2%.
The September contract for palm olein on the Dalian Commodity Exchange dropped as much as 1.6%.
Palm oil could fall further to RM2,730 per tonne, according to analysis by a Reuters market analyst for commodities and energy technicals.
Palm, soy and crude oil prices at 1034 GMT
| | | | | | | |
| --- | --- | --- | --- | --- | --- | --- |
| Contract          | Month    | Last  | Change     | Low   | High   | Volume |
| MY PALM OIL       | APR7     | 2895  | -38.00    | 2895   | 2928      | 682 |
| MY PALM OIL       | MAY7     | 2823  | -15.00    | 2815   | 2836     | 4312 |
| MY PALM OIL       | JUN7     | 2755  | -17.00    | 2742   | 2768    | 19871 |
| CHINA PALM OLEIN  | SEP7     | 5516  | -92.00    | 5512   | 5578   | 445620 |
| CHINA SOYOIL      | SEP7     | 6362  | -80.00    | 6352   | 6446   | 398264 |
| CBOT SOY OIL      | MAY7    | 32.86   | -0.36   | 32.82  | 33.29     | 7832 |
| INDIA PALM OIL    | MAR7   | 532.70   | -4.30  | 532.30  | 536.5      | 322 |
| INDIA SOYOIL      | APR7    | 645.9   | -6.95   | 645.8    | 649    | 16850 |
| NYMEX CRUDE       | MAY7    | 48.02   | +0.32   | 47.65  | 48.12    | 62325 |
Palm oil prices in Malaysian ringgit per tonne
CBOT soy oil in US cents per pound
Dalian soy oil and RBD palm olein in Chinese yuan per tonne
India soy oil in Indian rupee per 10 kg
Crude in US dollars per barrel
(US$1 = RM4.4230)
(US$1 = 65.4025 Indian rupees)
(US$1 = 6.8833 Chinese yuan)